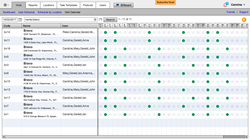 Our products are always evolving. Just last month, we expanded CPG data collection capabilities on VisitBasis with optimized must-stock-list (MSL) support
Miami, FL (PRWEB) October 23, 2017
VisitBasis, the software company from Hallandale Beach, Florida, has just launched new features on its namesake SaaS merchandising software that greatly simplify how retail planogram compliance checks are set up.
Among those features are the ability to create task lists for stores and a visual visits calendar that also allows for bulk data importing. "Our products are always evolving. Just last month, we expanded CPG data collection capabilities on VisitBasis with optimized must-stock-list (MSL) support", says Sergey Gorbunov, CEO of VisitBasis.
The new "Task Lists" VisitBasis feature allows managers to automatically setup preselected tasks for every location. This way, when reps make their store rounds, even if they setup their own schedule, they will not skip any mandatory activities such as planogram compliance checks.
On the new "Visits Calendar" window, managers and supervisors have access to a visual overview of past, present, and future store visits, also allowing them to schedule (or cancel) such visits with just one click. It is also possible to import visit schedules into VisitBasis from simple spreadsheets that can be edited in Microsoft Excel or Google Sheets and then saved as comma-separated-values (CSV) or text (TXT) files.
The "Task Lists" and "Visit Calendar" features are readily available for current VisitBasis subscribers. For more information, including access to a free trial offer, go to http://www.visitbasis.com.
About VisitBasis Tech, Llc.
VisitBasis is a B2B software-as-a-service (SaaS) company specialized in the development of cost-effective, cutting-edge, and comprehensive mobile solutions that aim to increase sales and reduce costs, improving the bottom-line of businesses that rely on field professionals. The key benefit of VisitBasis app is to optimize retail execution, merchandising, field marketing, mobile data collection, retail audits, territory management, sales rep planning, tracking sales, mobile staff management, electronic product catalog, sales enablement, among others, especially in the consumer product goods (CPG) and fast-moving consumer goods (FMCG) industries. Other VisitBasis products include VisitEye and Pocady.