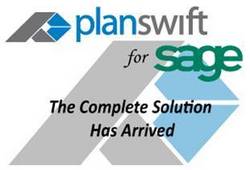 Salt Lake City, UT (Vocus) June 9, 2010
PlanSwift announced today an exciting new partnership with Sage. PlanSwift and Sage have come together to offer the construction industry the compete solution in construction takeoff and estimating: PlanSwift for Sage. This new product combines PlanSwift's amazing takeoff capability with the power of Sage Timberline Office Estimating. PlanSwift for Sage is offered exclusively through Sage.
James Purpura, President and COO at PlanSwift said, "PlanSwift is pleased to announce this new alliance, which comes at the request of many of our customers. This integration actually embeds the powerful assemblies of Sage Timberline Office Estimating inside of PlanSwift's takeoff interface, which will streamline the estimating process. We're extremely excited about all the possibilities of this powerhouse collaboration."
PlanSwift is an industry leader in construction software. The PlanSwift program allows builders to do material takeoffs right on their computer screens using digital plans. PlanSwift is eliminating the need for digitizer boards and paper plans. PlanSwift for Sage's easy to use, drag-and-drop interface will save the estimator valuable time and their accuracy will be astounding. Sage Timberline Office Estimating assemblies can be applied directly within the PlanSwift for Sage software for instant takeoff and estimating.
"As the construction industry fights to regain its lost footing from the economic downturn, builders need every opportunity to drive efficiency into the business. The combination of PlanSwift and Sage's Estimating Standard and Extended products creates a powerful offering that provides builders with an easy to use, cost effective and streamlined process from plans to estimate", said Jim Walter, Vice President of Development, Sage Construction and Real Estate.
Matthew Miller, Director of Marketing at PlanSwift said, "The construction industry is changing. The recession is leading builders into the digital age. The days of doing takeoff from paper plans are coming to an end. Companies are looking for ways to become more efficient; PlanSwift for Sage addresses that need."
For more information, please visit http://www.sagecre.com or call Sage at 1-800-628-6583.
If you are interested in learning more about PlanSwift for Sage, contact your Sage CRE Partner. Industry professionals are offered a free 14-day, fully functional trial of PlanSwift for Sage at http://www.planswift.com/sage
About PlanSwift
PlanSwift, a subsidiary of Tech Unlimited, Inc., is a leading provider of takeoff and estimating software to industry professionals. The PlanSwift Company has developed software to enhance the construction industry's daily takeoff and estimating needs. More than 5,000 industry professionals, in over ten countries, use PlanSwift to help them complete more precise and accurate bids everyday. For more information about PlanSwift, please visit the company's website at http://www.planswift.com
If you would like more information about the company, or to schedule an interview with Matthew Miller, please call (888) 752-6794 ext. 729. You can also email marketing (at) planswift (dot).com
###