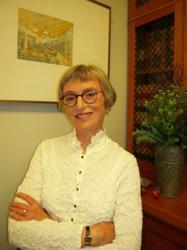 Clearly there is a strong new momentum building here at the Botanical Garden Society, and that comes in large measure from Ms. Schiff's strategic leadership
San Francisco, CA (PRWEB) October 26, 2011
San Francisco Botanical Garden Society's Board of Trustees Chair Don R. Baldocchi announced today that Sue Ann Levin Schiff, an experienced nonprofit senior executive previously appointed as Interim Executive Director in April, 2011, has been appointed permanent Executive Director effective immediately.
"The entire Board," Baldocchi said, "has been very impressed by Ms. Schiff's agility and acumen in positioning San Francisco Botanical Garden Society for the challenges and opportunities ahead. In just six short months," Baldocchi reports, "she has recentered the case for our campaign to build our Nursery: Center for Sustainable Gardening, guided us to the successful completion of a new strategic decision-making architecture developed in conjunction with Harvard Business School Community Partners, led our annual fall fundraising event, Garden Feast, to its first goal-breaking net of more than $100,000, and strengthened our partnership with the City's Recreation and Park Department around our common goals. Clearly there is a strong new momentum building here at the Botanical Garden Society, and that comes in large measure from Ms. Schiff's strategic leadership."
Brent Dennis, Garden Director and Assistant Director of Operations for Golden Gate Park, said, "I have been very impressed and gratified by Ms. Schiff's significant advancement of so many important initiatives and projects so quickly. As the primary leader of our nonprofit partner, she has embraced many challenges and turned them into tremendous opportunities for the further improvement of the Garden's programs, facilities, collections, and community connections. She has quickly developed a comprehensive understanding of the Garden's Master Plan, blended staff dynamics, and the importance of the Garden within Golden Gate Park as well as our place within the world of botanical gardens. I welcome her appointment as Executive Director as a very positive move in strengthening the partnership between the Botanical Garden Society and the San Francisco Recreation and Park Department."
"San Francisco Botanical Garden is one of our City's great treasures," Schiff stated. "From my first day at the Botanical Garden Society, I have been inspired by the Garden, the meaning it holds for visitors of all ages and backgrounds, and the extraordinary commitment of our trustees, staff, volunteers and Recreation and Park Department team. I am privileged and honored to lead the Botanical Garden Society at this time of enormous opportunity for the Garden. The Center for Sustainable Gardening, designed to be a model for sustainable architecture and gardening practices, will strengthen our nursery operations and plant collections management, transform the experience of our visitors, generate new interest in our outstanding horticultural library, and enable us to expand and deepen our flourishing youth education program," Schiff added.
Ms. Schiff has held executive positions in nonprofits, higher education and the corporate sector. Most recently Associate Director for Youth, Family and Recreation at the Jewish Community Center of San Francisco, she led the JCCSF's largest program area. As Executive Director of Legal Community Against Violence, she grew a young nonprofit with limited resources to national prominence and impact. As Assistant Dean at the School of Law (Boalt Hall) at the University of California, Berkeley, she played a lead role in addressing strategic issues to advance the law school's standing. She was the first woman to serve as a corporate officer within the Pacific Gas and Electric companies and took on positions of progressive responsibility during a period of rapid industry-wide restructuring. She has served on several nonprofit boards, holds a JD and MA (Sociology) from the University of California, Berkeley, and received her undergraduate degree from Smith College.
About San Francisco Botanical Garden Society
San Francisco Botanical Garden Society works in partnership with the City of San Francisco/Recreation and Park Department to support San Francisco Botanical Garden, whose 55 acres in Golden Gate Park includes more than 8,000 different kinds of plants native to California and from throughout the world. This tremendous plant diversity, with almost 30 percent of the species wild-collected and many rare and endangered, is displayed in 26 geographic and thematic gardens. The Botanical Garden Society's mission is to build communities of support for the Botanical Garden and to cultivate the bond between people and plants. With the help of its members, donors and volunteers, the Botanical Garden Society funds Garden improvements, provides curatorial and plant collections management services, propagates plants for the Botanical Garden and for sale to the public, maintains the Helen Crocker Russell Library of Horticulture, offers year-round educational and community programming, operates the Garden Bookstore and welcomes visitors from San Francisco, the Bay Area and around the world.
The Garden is situated in the heart of San Francisco's Golden Gate Park, near famous attractions including the California Academy of Sciences and the de Young Museum. With 26 distinct gardens and collections on their grounds, visitors can explore incredible rarities from Asia, Australia, New Zealand, Central and South America, and South Africa, plus the Garden's award-winning California Native Plant Garden, complete with a century-old San Francisco redwood forest.
A beloved San Francisco tourist attraction, the Garden has daily docent-led San Francisco walking tours, and can arrange private day tours. Their daily and monthly plants sales are a unique opportunity to acquire plants seldom found in commercial nurseries or garden centers.
For more information about the permanent appointment of Sue Ann Schiff as Executive Director, please contact Austin Quirk by calling 415-666-2211, Ext. 401 or emailing aquirk(at)sfbg(dot)org.
For information about how to become a Society member, or any of San Francisco Botanical Garden Society's products and services, please call (415) 666-2211 or visit http://www.sfbotanicalgarden.org.
###