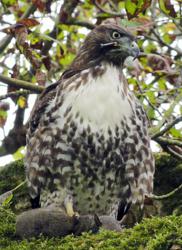 We leave grassy areas in the native garden for the quail, and if we know of any baby quail we refrain from watering until they are several weeks old
San Francisco, CA (PRWEB) November 02, 2011
Several weeks ago, a juvenile red-tailed hawk that had been shot in the head with a framing nail was captured at San Francisco Botanical Garden(SFBG) in Golden Gate Park by WildRescue personnel and brought to the Wildlife Center of Silicon Valley for recuperative care. On Wednesday, November 2nd at 11 AM, she was released where she was captured.
San Francisco Botanical Garden is well-known and beloved as a horticultural wonder with an extraordinary diversity of plants from all over the world, but in addition to being a popular San Francisco tourist attraction and educational facility, SFBG serves a very important, if lesser-known, function: it is home to many species of wildlife, including hawks and many other birds.
SFBG is a favorite local spot of many bird watchers; in fact, the hawk with a nail in her head was spotted there by birders who then notified authorities. Bird lovers come to SFBG on their own or as attendees of the monthly Audubon Society-led birding walk in hopes of spotting bird species that are difficult to find anywhere else.
SFBG is a habitat for up to 40 species of native California quail. The variety of plants for food and availability of water are the top reasons SFBG is a great habitat for so many birds. Last year a Rose Breasted Grosbeak was sighted, which was a delight to bird watchers in the monthly group.
Curator Don Mahoney noted that SFBG takes pride in creating welcoming habitats for wild birds. "We leave grassy areas in the native garden for the quail, and if we know of any baby quail we refrain from watering until they are several weeks old. We leave seed-heads on perennials like evening primrose for birds to eat over the winter. We leave Agave stalks in the succulent garden for woodpeckers and tree swallows to nest in (which they do every summer)."
With its ample nesting opportunities and large populations of lizards, rodents, and other prey, SFBG will make a welcoming home for the red-tailed hawk as she recovers her full strength. Many members of the public and media attended the release of the hawk on November 2nd.
About San Francisco Botanical Garden Society
San Francisco Botanical Garden Society works in partnership with the City of San Francisco/Recreation and Park Department to support San Francisco Botanical Garden, whose 55 acres in Golden Gate Park includes more than 8,000 different kinds of plants native to California and from throughout the world. This tremendous plant diversity, with almost 30 percent of the species wild-collected and many rare and endangered, is displayed in 26 geographic and thematic gardens. The Botanical Garden Society's mission is to build communities of support for the Botanical Garden and to cultivate the bond between people and plants. With the help of its members, donors and volunteers, the Botanical Garden Society funds Garden improvements, provides curatorial and plant collections management services, propagates plants for the Botanical Garden and for sale to the public, maintains the Helen Crocker Russell Library of Horticulture, offers year-round educational and community programming, operates the Garden Bookstore and welcomes visitors from San Francisco, the Bay Area and around the world.
SFBG is situated in the heart of San Francisco's Golden Gate Park, near famous attractions including the California Academy of Sciences and the de Young Museum. With 26 distinct gardens and collections on their grounds, visitors can explore incredible rarities from Asia, Australia, New Zealand, Central and South America, and South Africa, plus SFBG's award-winning California Native Plant Garden, complete with a century-old San Francisco redwood forest.
SFBG has daily docent-led San Francisco walking tours, and can arrange private day tours. Their daily and monthly plants sales are a unique opportunity to acquire plants seldom found in commercial nurseries or garden centers.
For information about how to become a Society member, or any of San Francisco Botanical Garden Society's products and services, please call (415) 666-2211 or visit http://www.sfbotanicalgarden.org.
###