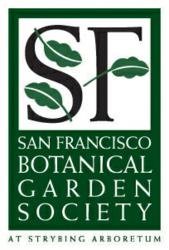 We were especially grateful for the synergistic spirit of this grant, allowing us to bring together resources from both our Youth Education Program and our Library
San Francisco, CA (PRWEB) December 01, 2011
A summer intern program for San Francisco Botanical Garden Society's (SFBGS) Youth Education Program (YEP) and the capacity to hire an Assistant Librarian for the Society's Helen Crocker Russell Library for Horticulture have been funded with a new $75,000 capacity-building grant from the S. D. Bechtel, Jr. Foundation, SFBGS Executive Director Sue Ann Schiff today announced.
"We are grateful to the Bechtel, Jr. Foundation for this grant," Ms. Schiff said, "because it catalyzes our efforts as we focus on expanding our donor base and strengthening our ability to best meet long term objectives. Additionally, the grant enables us to better serve the needs of the San Francisco Unified School District and other Bay Area teachers who annually bring 10,000 students here to the Garden to learn. We were especially grateful for the synergistic spirit of this grant, allowing us to bring together resources from both our Youth Education Program and our Library. With this grant we will also be able to restore the Library's schedule to six-days-per-week, after earlier budget reductions had cut back the Library's schedule to four-days-per-week." The Library is expected to begin its expanded schedule in early 2012, Schiff said.
Included in the grant are funds to bolster the Youth Education Program's summer intern program. "These sought-after internships provide career-entry positions in nature education," says Annette Huddle, Director of the YEP. "And then these very motivated young people are here to support summer activities we are able to offer an otherwise underserved segment in our community." These programs include "Acorn to Oak," (a ten-week program in the Children's Garden focusing on children ages five to twelve, most from low-income families, who are enrolled in SFUSD summer programs, day camps, recreation-center programs, summer schools, and child-development centers) and "Garden Explorers" (a half-day program where children explore different areas of the Botanical Garden, do sketching and collecting activities, and complete an art project to take home).
Additional funds allow the Library to hire a half-time Assistant Librarian to collaborate with the Youth Education Program, assist teachers in selecting books to incorporate into classroom discussions, coordinate special story time readings for school groups and manage and develop the Library's Story Time program.
This, in turn, makes it possible for the Library to circulate, for the first time, its 1,600-volume Children's Collection. "This Collection is one of our most popular, and we've long wanted to make it more accessible," says Brandy Kuhl, Head Librarian. Encompassing a wide spectrum of topics such as botany, horticulture, natural history, zoology, agriculture, forestry, and physical science, the circulation of this esteemed collection has been a frequent request from classroom teachers.
About San Francisco Botanical Garden Society
San Francisco Botanical Garden Society works in partnership with the City of San Francisco/Recreation and Park Department to support San Francisco Botanical Garden, whose 55 acres in Golden Gate Park includes more than 8,000 different kinds of plants native to California and from throughout the world. This tremendous plant diversity, with almost 30 percent of the species wild-collected and many rare and endangered, is displayed in 26 geographic and thematic gardens. The Botanical Garden Society's mission is to build communities of support for the Botanical Garden and to cultivate the bond between people and plants. With the help of its members, donors and volunteers, the Botanical Garden Society funds Garden improvements, provides curatorial and plant collections management services, propagates plants for the Botanical Garden and for sale to the public, maintains the Helen Crocker Russell Library of Horticulture, offers year-round educational and community programming, operates the Garden Bookstore and welcomes visitors from San Francisco, the Bay Area and around the world.
San Francisco Botanical Garden is situated in the heart of San Francisco's Golden Gate Park, near famous attractions and museums for kids including the California Academy of Sciences and the de Young Museum. With SFBG's 26 distinct gardens and collections, which include rarities from Asia, Australia, New Zealand, Central and South America, and South Africa, plus SFBG's award-winning California Native Plant Garden, complete with a century-old redwood forest, a trip to SFBG is one of the best things to do in San Francisco.
SFBG has daily docent-led San Francisco day tours, and can arrange private tours. Their daily and monthly plants sales are a unique opportunity to acquire plants seldom found in commercial nurseries or garden centers. SFBG's Youth Education Program serves 10,000 children each year with guided walks, children's garden programs, treasure hunts, and other kids' activities for San Francisco children.
For information about how to become a Society member, or any of San Francisco Botanical Garden Society's products and services, please call (415) 666-2211 or visit http://www.sfbotanicalgarden.org.
###