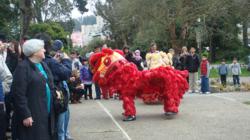 We provide an immersive experience in four of our garden sections for those that might want to take a botanical journey from Burma to China and Thailand to Indonesia, Japan and even New Guinea
San Francisco, CA (PRWEB) January 07, 2012
San Francisco Botanical Garden Society (SFBGS) invites the community to the 13th Annual Lunar New Year Celebration and Flower Market. The event will be a celebration of the Year of the Dragon with an exciting day filled with food, festivities, and flowers. The celebration takes place from 10 am – 4 pm on Saturday, January 21st, 2012 at the San Francisco County Fair Building (9th and Lincoln Way in Golden Gate Park). Admission is free. SFBG will hold a preview and photo op for print, broadcast, and online media on Thursday, January 19th at 10:00 AM.
Eleanor Lew, SFBGS volunteer and community organizer, says, "This celebration is so important for our families every year. It's a time to unite together and share the good fortune of the coming year."
This year's program includes classical stringed instruments and cultural dance performances by Alice Fong Yu School and West Coast Lion dancers; magician Jaden Huang; a puppet show from Chinese Historical Society of America; a talk by Chinatown historian Lyle Jan; a Tea Room and Tea Tastings by Vital Tea Leaf; story time; educational activities; and an Asian Art Museum Children's Art Center for the kids; plus, 826 Valencia will be on hand with learning activities.
A wonderful array of Asian foods will be provided by: Pacific Coast Farmer's Market, Tru Gourmet Organic Dim Sum, Sugar Bliss cake pops, Little Vietnam Café, and Simply Mochi.
Attractions include chop carving, scroll painting, International School of Ikebana, docent-led tours of San Francisco Botanical Garden, traditional Lunar New Year plants and flowers, and much more.
San Francisco Botanical Garden preserves many rare and endangered plants from all over Asia, providing a tangible connection to Asian culture. Associate Curator David Kruse-Pickler says, "We provide an immersive experience in four of our garden sections for those that might want to take a botanical journey from Burma to China and Thailand to Indonesia, Japan and even New Guinea."
Ernie Ng, long-time Garden volunteer and a key organizer of the Lunar New Year celebration, adds, "Bilingual signs for some of the trees and plants in the Garden are put out during the LNY Event."
The gardens at SFBG featuring Asian plants include Temperate Asia (Burma to China, south to Thailand), Moon Viewing Garden (Japan), Southeast Asian Cloud Forest (Thailand, Vietnam, Cambodia, New Guinea, Malaysia, Indonesia), and Rhododendron Garden (China, Japan, New Guinea, Indonesia).
Lunar New Year is a great cultural activity for the whole family at beautiful San Francisco Botanical Garden, which features more than 8,000 varieties of the world's most spectacular plants in twenty-six exquisitely designed gardens.
For more information and a complete vendors list, visit http://www.sfbg.org. To RSVP for the media preview, please contact Heidi Wohlwend at (415) 666-2211 x.304 or Heidi(at)sfbg.(dot)org.
About San Francisco Botanical Garden Society
San Francisco Botanical Garden Society works in partnership with the City of San Francisco/Recreation and Park Department to support San Francisco Botanical Garden, whose 55 acres in Golden Gate Park includes more than 8,000 different kinds of plants native to California and from throughout the world. This tremendous plant diversity, with almost 30 percent of the species wild-collected and many rare and endangered, is displayed in 26 geographic and thematic gardens. The Botanical Garden Society's mission is to build communities of support for the Botanical Garden and to cultivate the bond between people and plants. With the help of its members, donors and volunteers, the Botanical Garden Society funds Garden improvements, provides curatorial and plant collections management services, propagates plants for the Botanical Garden and for sale to the public, maintains the Helen Crocker Russell Library of Horticulture, offers year-round educational and community programming, operates the Garden Bookstore and welcomes visitors from San Francisco, the Bay Area and around the world.
San Francisco Botanical Garden is situated in the heart of San Francisco's Golden Gate Park, near famous attractions and museums for kids including the California Academy of Sciences and the de Young Museum. With SFBG's 26 distinct gardens and collections, which include rarities from Asia, Australia, New Zealand, Central and South America, and South Africa, plus SFBG's award-winning California Native Plant Garden, complete with a century-old redwood forest, a trip to SFBG is one of the best things to do in San Francisco.
SFBG has daily docent-led San Francisco day tours, and can arrange private tours. Their daily and monthly plants sales are a unique opportunity to acquire plants seldom found in commercial nurseries or garden centers. SFBG's Youth Education Program serves 10,000 children each year with guided walks, children's garden programs, treasure hunts and other kids' activities for San Francisco children.
For information about how to become a Society member, or any of San Francisco Botanical Garden Society's products and services, please call (415) 666-2211 or visit http://www.sfbotanicalgarden.org.
###