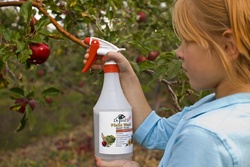 Some of my plants were not looking very good, so I applied Plant Wash once a week for the last three weeks
MINNETONKA, Minn. (PRWEB) June 16, 2008
More than 400 members of the National Home Gardening Club's consumer panels tested the organic gardening product, introduced in late 2007, over a three-month period.
"My plants look great, have grown tremendously and have no disease or pests," said Roberta Richardson of Norridgewock, Maine. "The best feature for me is the safety of my children and animals while using this product. There is no need to worry about them becoming ill."
"Some of my plants were not looking very good, so I applied Plant Wash once a week for the last three weeks," said Louise Seymour of Falmouth, Va. "I'm amazed at how much the plants have been revitalized! The blooms are twice as big as in previous years. It's also easy to use."
"I have heard many organic gardeners comment on its benefits and effectiveness," added Kimberly Harrison of New Braunfels, Texas. "The product is a very good natural alternative to other commercial products."
The environmentally friendly product was developed as a result of efforts to stem Dutch elm disease by Boise nursery owner Jim Zamzow, affectionately dubbed "Dr. JimZ" for his experiments in using organic gardening methods to improve plant growth.
"We first washed elms with a mild solution of castile soap or Fels Naptha, which has long been used in organic gardening control aphids," said Jos Zamzow, son of "Dr." Jim and vice president of TerraLife, Inc., which distributes the product.
"It helped, but soap did not accomplish what we had hoped in terms of plant growth. It was a little like running your hand over a car after a heavy rain. The car is cleaner, but you can still feel grime. There's still some residue, particularly from pollution.
"Then we heard about a nano cleaning technology using a pine oil base. We conducted trials with marigolds at our research facility in Maui. Each of three groups received the recommended doses of a different national-brand fertilizer. We did nothing special except to wash the fourth group every two weeks.
"We still aren't sure whether washing allows photosynthesis and plant growth to take place more efficiently because it cleans the leaves or because it opens the pores. But we do know that at the end of our trials, the plants that we washed weighed more than any of the groups that received fertilizer," he added. "As a result, we expect Plant Wash to be very popular in organic gardening."
In addition to the pine oil base, Plant Wash contains fatty acids and trace minerals. Like all Dr. JimZ products, it contains only natural ingredients and is safe for use around children and animals.
Although TerraLife used no fertilizer in tests of the organic gardening product, plant growth is even better with both Plant Wash and a natural fertilizer such as Dr. JimZ Secret Formula Save-a-Tree, Zamzow added. Save-a-Tree is the only non-leaching manufactured fertilizer in the world.
Dr. JimZ Secret Formula organic gardening products are available from independent nursery retailers throughout the West, including Calloway's in Texas and C-A-L Ranch stores in Utah and Idaho. Wholesale orders may be placed through major nursery supply distributors, including L&L in Fremont, Calif.; Gard'n Wise Distributors, Inc. of Salt Lake City; Jensen Distribution Services in Spokane, and United Pipe & Supply of Boise. TerraLife headquarters are in Nampa, Idaho.
Additional information is available, and individual orders may be placed on the Internet at http://www.Save-a-Tree.com or by calling 1.866.855.9552. Plant Wash costs $14.95 for a two-ounce container.
The National Home Gardening Club, founded in 1996, has approximately 675,000 members. Plant Wash will be featured in the July/August issue of the club's magazine, Gardening How-To.
Note: Additional high-resolution photos are available.
Release Summary:
Dr. JimZ Secret Formula Plant Wash, the new organic gardening product that has produced more plant growth than fertilizer, has received the National Home Gardening Club's Member Tested & Recommended Seal of Approval.
Keyword Tags:
fertilizer, organic gardening, plant growth
MULTIMEDIA GALLERY http://www.businesswire.com/cgi-bin/mmg.cgi?eid=5710161