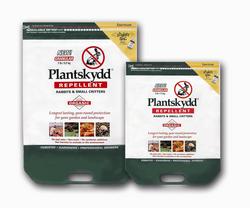 ...suitable for use in the production of organic food and fiber.
Saint Joseph, MO (PRWEB) May 8, 2008
Plantskydd™ Rabbit & Small Critter Repellent is now available from Tree World Plant Care Products, in new, easy-to-use 3 lb and 7 lb ShakerPaks, to protect lawns, ornamentals, shrubs and trees from small animal browse damage.
Now all homeowners have to do is simply shake the bag over the area needing protection. The internal gussets in the new ShakerPaks will distribute just the right amount of granular repellent each and every time.
100% organic, and not harmful to pets or the environment, Plantskydd is formulated to mimic predator activity--ensuring rabbits and small critters will dine in your neighbor's garden, not yours. Plantskydd is the 1st repellent to be 'Listed' by the USDA recognized Organic Material Review Institute (OMRI) as "...suitable for use in the production of organic food and fiber."
There is no messy mixing! No bad odor. No cleanup. Just shake out the granules to protect plants against: rabbits, squirrels, voles, nutria, opossum and other small critters. It couldn't be easier! It also works against deer, elk and moose.
Plantskydd was originally formulated in Sweden to protect its vast forest plantations from deer, rabbits and moose. It is now made in the USA, where it has become the #1 choice of Professional landscapers, foresters and growers.
Tree World, established in 1998, also makes Plantskydd Deer Repellent in both powder concentrate (OMRI Listed), and ready-to-use, pre-mixed liquid formulations. For more information regarding: independent field trial results; professional user testimonials; answers to FAQs, and the location of the nearest Dealer, please visit: http://www.plantskydd.com and http://www.treeworld.com
ABOUT --Tree World
Tree World Plant Care Products Inc. (est. 1988) is focused exclusively on providing plant protection solutions to customers experiencing animal browse damage to: their gardens, food crops, nurseries, riparian areas, tree plantations, and woodlots.
The company has deep roots in the silviculture community. With the help of professional foresters, landscapers and nursery cooperators over many years, Tree World initiated some 50+ operational field trials using Plantskydd Animal Repellent in Canada and the United States, to test the repellent's efficacy at significantly reducing animal browse damage. Following the overwhelming success of these independent tests, the company subsequently built a successful Distribution and Dealer network in Canada, the United States, New Zealand, and (soon) other countries.
Tree World actively supports Master-Gardener and Organic Farming sponsored events. The company yearly contributes a portion of its retained earnings to WaterCan, a registered charitable foundation whose purpose is to provide clean, potable water to global communities in need--especially in Africa. http://www.watercan.com
For further information, call Claude Boisvert, Corporate Communications, Tree World Plant Care Products, Inc.; Toll Free: 1-800-252-6051
###