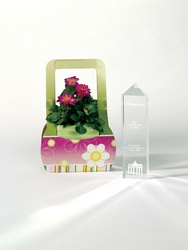 We are delighted that the John Henry was recognized by Floramedia for our latest innovation in merchandising solutions
NEW YORK (PRWEB) July 1, 2008
Floramedia's annual competition was organized in 1967 to recognize market-oriented design achievements that improve a plant's marketability and appeal to end consumers. Awards are given in three categories – Best Product, Best Out of the Box Product, and Best Presentation. The delegates voted unanimously for the Plant Porter in both the Best Out of the Box Package and Best Presentation categories.
John Henry designed the Plant Porter to add eye-catching packaging to traditional potted plants to create a convenient gift for any occasion. Recognizing the challenges of capturing the attention of busy female shoppers, this purse-inspired package offers shelf-appeal, versatility, and grab-and-go styling. The Plant Porter can be sized to fit any pot and customized with graphics for seasonal promotions or store branding.
"We are delighted that the John Henry was recognized by Floramedia for our latest innovation in merchandising solutions," commented Kristi Huffman, Vice President John Henry. "The Plant Porter is an excellent example of our philosophy of market-driven creative design and product development based on emerging industry trends and consumer buying behaviors."
About John Henry, a Multi Packaging Solutions Company
John Henry is a Multi Packaging Solutions company (MPS). MPS is a leader in print and packaging offering an array of solutions for the horticultural, healthcare, media, and value added consumer markets. MPS has 12 production facilities throughout the United States. Founded by Marc Shore, the company has a seasoned management, sales, and design team with vast experience in print and packaging. Unlike traditional packaging companies, MPS is unique in its depth of industry experience, breadth of technologies and range of resources. More information is available at http://www.jhc.com and http://www.multipkg.com.
About Floramedia Group
Floramedia Group is a part of Mercurius Groep B.V., a specialist printing, publishing and communications group. With over 200 employees in 10 countries, Floramedia focuses on improving the business of its customers by offering total concepts, having full geographic coverage and continuously striving for innovations.
MULTIMEDIA GALLERY http://www.businesswire.com/cgi-bin/mmg.cgi?eid=5720220