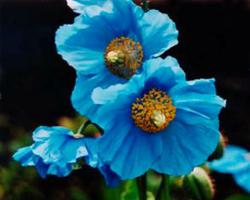 You will add vibrancy and variety to your garden with the exciting perennials featured at the sale and your purchase helps support the Botanical Garden
San Francisco, CA (Vocus/PRWEB) June 10, 2011
San Francisco Botanical Garden Society is hosting its monthly public sale, this time focusing on perennials, this Saturday, June 11, from 10 am to 2 pm. The sale will take place at the Botanical Garden, located at 9th Avenue & Lincoln Way in San Francisco's Golden Gate Park.
Historically, perennials have been the backbone of the traditional English border and cottage gardens, as they are some of the most colorful plants gardeners can grow. With careful selection, they can attract butterflies and beneficial insects to a garden.
"You will add vibrancy and variety to your garden with the exciting perennials featured at the sale and your purchase helps support the Botanical Garden," said Dr. Don Mahoney, San Francisco Botanical Garden Curator.
This month, the San Francisco Botanical Garden will have an abundance of perennials, many in bud and bloom, in their nursery. Of particular note are blue meconopsis (Himalayan blue poppies), which grow quite tall (1-1.5m, 3-5ft) and have beautiful blue flowers. They are sometimes difficult to grow, but Bay Area residents have experienced great success with these poppies this past season.
The Garden will also carry an abundance of the prized hardy geranium 'Rozanne,' which develops a mounding habit 20" high and 24-30" in spread. Its foliage is deeply lobed and dark green with light marbling. Dozens of large, 1.5" iridescent violet-blue flowers put on a show in early summer and keep going until fall, flowering well in the heat of summer or the cool nights of early fall.
The sale will include over 30 varieties of salvias, variegated brunnera, epimediums, Dicentra eximia (wild bleeding-heart, in full bloom), orange trollius, five kinds of hellebores and many kinds of irises—for both wet and dry gardens.
Scented geraniums (actually pelargoniums) make great space fillers for lightly watered sunny areas, and the Society's large supply contains over 10 varieties with interesting foliage patterns and showy flowers. Grass-like restios from South Africa make a perfect companion plant, and the Garden has numerous hard-to-find species.
The native plants section has its share of perennials, and this week cammasia (wild hyacinth) bulbs are in full glorious bloom, as are native columbines—a wonderful addition to a filtered light or shade dry garden. Native disporums (fairy bells), which like full shade, and many native grasses that grow in sun or shade, including blue forms of Festuca californica, are also available.
Bay Area residents and visitors are encouraged to support the Botanical Garden, a unique San Francisco tourist attraction, by exploring the handsome and sometimes rare flowers available at this distinctive perennial sale.
About San Francisco Botanical Garden Society
The San Francisco Botanical Garden Society is the nonprofit support organization for the San Francisco Botanical Garden, one of the great living collections of the world, distinguished by plants not grown anywhere else except the garden's nursery and their native habitats. The Garden features more than 8,000 varieties of plants from around the world on 55 acres in the heart of Golden Gate Park, near famous attractions including the California Academy of Sciences and the de Young Museum.
With 26 distinct gardens and collections on their grounds, visitors can explore incredible rarities from Asia, Australia, New Zealand, Central and South America, and South Africa, plus their award-winning California Native Plant Garden complete with a century-old San Francisco redwood forest.
The Garden has daily docent-led San Francisco walking tours, and can arrange private day tours. Their monthly plants sales are a unique opportunity to acquire plants seldom found in commercial nurseries or garden centers.
For more information about the public sale on June 11, how to become a Society member and have the opportunity for first plant selection, or any of San Francisco Botanical Garden Society's products and services, call them at (415) 564-3239 or visit them on the web at http://www.sfbotanicalgarden.org.
###