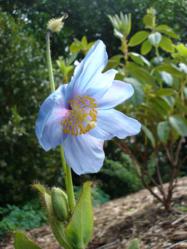 This choice plant selection will amaze and delight the casual weekend dabbler and the most passionate horticulturist alike
San Francisco, CA (Vocus/PRWEB) May 05, 2011
San Francisco Botanical Garden Society announces their 44th Annual Spring Plant Sale featuring unique and extraordinary plants rarely available in the Bay Area at the County Fair Building on 9th and Irving streets in Golden Gate Park. The free event and Northern California's largest plant sale will be open for San Francisco Botanical Garden Society members on Friday evening, May 6 at 5 pm and to non-Society members on Saturday morning, May 7 at 10 am and will run to 2 pm.
"This choice plant selection will amaze and delight the casual weekend dabbler and the most passionate horticulturist alike," said Nancy John of San Francisco Botanical Garden Society, "Propagated by highly trained volunteers under the supervision of the Society's curator, these plants - most of which come from the Garden's own collection - are chosen for their suitability to Bay Area growing conditions and are gently and professionally tended to ensure superior quality."
Over 4,000 different kinds of plants will be available. Among the most desirable and hard to find will be the Australian Banksias, South African Proteas, California natives Achlys triphylla and Coptis lanciniata and the Chinese Adiantum venustum. Included for purchase during the two-day sale will also be the Himalayan poppy, perhaps the bluest flower in the world; the gragrant Luculia, which is virtually unknown outside the Bay Area; the dainty Anemone deltiodea and the mighty Dawn redwoods.
Additionally, new and classic books on gardening and exciting gardening gifts will also be available during the Spring Plant Sale, where proceeds will benefit San Francisco Botanical Garden Society Nursery and Nursery Programs. Staff and volunteers will be on hand to answer questions and provide expert advice on the best plants for individual gardens.
About San Francisco Botanical Garden Society
San Francisco Botanical Garden is one of the great San Francisco living collections of the world, distinguished by plants not grown anywhere else except the garden's nursery and their native habitats. The Garden features more than 8,000 varieties of plants from around the world on 55 acres in the heart of Golden Gate Park.
With 26 distinct gardens and collections on their grounds, visitors can explore incredible rarities from Asia, Australia, New Zealand, Central and South America, and South Africa, plus their award-winning California Native Plant Garden complete with a century-old redwood forest. Their monthly plants sales in San Francisco are a unique opportunity to acquire plants seldom found in commercial nurseries or garden centers.
For more information about the 44th Annual Spring Plant Sale, how to become a Society member and have the opportunity for first plant selection, or any of San Francisco Botanical Garden Society's products and services, call them at (415) 564-3239 or visit them on the web at http://www.sfbotanicalgarden.org.
# # #