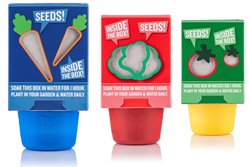 Georgetown, Massachusetts (PRWEB) May 13, 2014
UFP Technologies, a producer of custom-engineered components, products, and specialty packaging, has partnered with Little Duck Organics, a Brooklyn, N.Y. based startup, to provide printed and die-cut packaging embedded with MF Plantable Packaging™ seed cards for Little Duck Organics' new product line, Mighty Oats. Little Duck Organics produces organic baby cereal and snacks that are sold at grocery store chains throughout the country.
Plantable Packaging is the latest innovation in "green" packaging from UFP Technologies. The Plantable Packaging solutions are made from a fiber board material that is 100% recycled and 100% recyclable. A variety of flower, herb and vegetable seeds can be selected to be embedded within the packaging.
Little Duck Organics is implementing the eco-friendly Plantable Packaging in their line of Mighty Oats instant cereals. Mighty Oats, aimed at kids aged four months old and up, are made from a variety of ancient grains, fruits, and spices. The outer carton housing the product contains a plantable insert that yields tomatoes, carrots or lettuce when soaked in water and planted.
The fully biodegradable and compostable packaging of the Mighty Oats product has made it possible for Little Duck Organics to create a sustainable product that produces minimal waste with the added benefit and fun of growing your own vegetables.
UFP Technologies has created a variety of custom Plantable Packaging solutions including: clamshells for soap packaging, envelopes for gift cards, gift boxes for wine, CD sleeves, business cards, hang tags for retail goods and books marks.
About UFP Technologies
UFP Technologies is a producer of innovative custom-engineered components, products, and specialty packaging. Using foams, plastics, composites, and natural fiber materials, we design and manufacture a vast range of solutions primarily for the medical, automotive, aerospace & defense, and packaging markets. Our team acts as an extension of customers' in-house research, engineering and manufacturing groups, working closely with them to solve their most complex product and packaging challenges. For our customers, innovation takes many shapes. But each solution is shaped by a level of design, materials and process expertise that is unique to UFP Technologies.