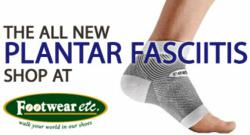 We are proud to offer our customers such a wide variety of insoles, sleep aids and shoes for Plantar Fasciitis.
Sunnyvale, CA (PRWEB) September 28, 2012
Footwear, etc. announces its new online Plantar Fasciitis Shoes and Accessories Shop developed specifically to benefit those suffering from Plantar Fasciitis. Products in this shop include shoes, insoles, sleep aids, and arch supports that are recommended by podiatrists to help alleviate heel pain associated with this disorder.
Plantar Fasciitis is an inflammation of the thick tendon at the bottom of the foot – the plantar fascia – caused by repetitive tears and stretches of the tendon. This inflammation can be due to obesity, exercise or occupations that put a great deal of stress on your feet, or inappropriate shoes (such as those with inadequate arch support and shock absorption, or containing high heels). Untreated, Plantar Fasciitis can cause chronic heel pain as well as knee, hip and back pain due to walking differently to compensate for the heel pain.
There are a wide variety of products available that can reduce Plantar Fasciitis symptoms. These include: heel cups and gel heel cushions, arch supports, orthotic insoles, sleep-aid socks, and compression sleeves. Customers should look for shoes with good arch support and deep heel cups. Rocker sole shoes are also beneficial in alleviating pain.
Sales Manager Andrew Monarch adds, "Plantar Fasciitis is one of the most prevalent foot problems that our customers experience. We are proud to offer our customers such a wide variety of insoles, sleep aids and shoes for Plantar Fasciitis."
Footwear etc.'s Plantar Fasciitis Shop includes shoes from MBT, New Balance, Aetrex, Orthaheel, Dr. Andrew Weil, Gravity Defyer, Fidelio, and Finn Comfort. Foot aid products like heel cushions, gel caps, insoles and the like are available from Spenco, Pedag, Superfeet, Feetures!, Orthaheel, and Strassburg. These products are tried-and-true, and are recommended by podiatrists to assist customers with Plantar Fasciitis symptoms.
Products to help alleviate Plantar Fasciitis symptoms are available now online at footwearetc.com and at their retail store locations in Northern California and San Diego.
About Footwear etc.:
Footwear etc. is a well-established, family-owned business, headquartered in Silicon Valley, CA since 1986. The company is committed to improving customers' quality of life by offering brand name products that demonstrate their belief in the need for healthful, comfortable and fashionable footwear. Footwear etc. operates nine retail stores located throughout the Bay Area and San Diego, and also offers their products on their website and catalog. To find out more, please visit http://www.footwearetc.com.