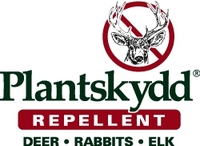 ...suitable for use in the production of organic food and fiber
Ferndale, WA (Vocus) June 3, 2009
Plantskydd ® Deer and Rabbit Repellent now comes with a 'Plant Protection Guarantee'. If for any reason the customer is not 100% satisfied with the purchase of any Plantskydd repellent product, the manufacturer, Tree World Plant Care Products , will refund the full Manufacturer's Suggested Retail Price.
100% organic, and not harmful to pets or the environment, Plantskydd is formulated to ensure hungry herbivores, like deer and rabbits, will dine in your neighbor's garden, not yours. It's proven efficacy--making it the most effective and long lasting repellent you can buy-- has made it the #1 choice of professional growers, landscapers, and foresters.
Plantskydd is now made in the United States. It was originally developed in Sweden in 1991 to protect its vast tree plantations from depredation by deer, rabbits, elk and moose, while at the same time meeting Sweden's strict environmental protection standards. Plantskydd literally means "plant protection" in Swedish. It proved so successful it was brought to North America in 1993, where it is now used to protect home gardens, landscapes, farmers' crops, orchards and commercial forest plantings in the United States and Canada.
Plantskydd was the first deer repellent in the USA to be Listed as "...suitable for use in the production of organic food and fiber" by the USDA recognized Organic Material Review Institute (OMRI).
Plantskydd is available in several formulations.
Plantskydd™ Deer and Rabbit Repellent -- is available in pre-mixed, "ready-to-use" quarts and jugs; as well as 'mix-your own' powder Concentrate formulations.
Plantskydd™ Rabbits and Small Critters Repellent (incl: voles, chipmunks, hares, squirrels)--available in a NEW granular formulation. No mixing involved! Comes in convenient 1 lb 'Shaker', and 3 lb and 7 lb 'Shaker bags'. Just sprinkle granular Plantskydd around the area needing protection. It couldn't be easier to apply. And for larger areas--a 20 lb 'easy carry' bag size. Plantskydd granular also works against deer, elk and moose.
For more information regarding: independent field trial results; professional user testimonials; answers to FAQs, and the location of the nearest Dealer, please visit: http://www.plantskydd.com or http://www.treeworld.com.
About Tree World
Tree World Plant Care Products, Inc. (est. 1988) is focused exclusively on providing environmentally safe plant protection solutions to customers experiencing animal browse damage to their gardens, nurseries, riparian areas, food crops, tree plantations, and woodlots.
Tree World actively supports Master-Gardener and Organic Farming events.
With the help of professional foresters, landscapers and nurserymen in Canada and the United States, Tree World initiated 50+ operational field trials over many years to test Plantskydd's efficacy in significantly reducing animal browse damage. Following the overwhelming success of these independent tests, the company has subsequently built a successful Distribution and Dealer network in Canada, the United States, New Zealand, and other countries. Tree World offers substantial support to its Dealer Network. Dealer Inquiries welcome.
For further information, call Toll Free: 1-800-252-6051
Claude Boisvert, Corporate Communications
Tree World Plant Care Products, Inc.
# # #