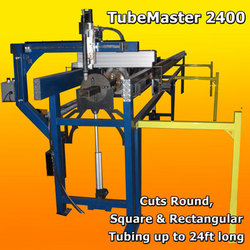 This is specialized manufacturing equipment
Ada, OK (Vocus) September 8, 2010
PlasmaRoute CNC officially launches their new CNC machine, the TubeMaster 2400 tube processing system. The TubeMaster 2400 is one of several PlasmaRoute CNC machines capable of rotary cutting, meaning that the machine will rotate a piece of material as it is being cut. The TubeMaster 2400 is designed specifically for plasma cutting round, square, and rectangular pipe.
The TubeMaster 2400 differs from PlasmaRoute CNC's other rotary cutting products, in that it offers automated pipe placement, automated material feed, the ability to handle multiple shapes of pipe and tubing, and the ability to accommodate pipe up to twenty-four feet in length. According to the product description on the PlasmaRoute CNC company website, the Tubemaster 2400 lifts the pipe into position and feeds the pipe forward to the plasma cutter. After the cut is finished, the cut piece then drops off into a bin.
With a price tag of $85K, the TubeMaster 2400 isn't for everybody. "This is specialized manufacturing equipment," says Steve Gustine, CEO and President of PlasmaRoute CNC LLC. According to Gustine, before the TubeMaster 2400 was released, "You couldn't get into a machine even similar to this for less than a hundred thousand." Gustine goes on to say that his company manufactures other CNC tube cutters and rotary wood cutters priced to meet the needs of a broader customer base.
PlasmaRoute CNC had announced earlier this year the impending release of a rotary attachment for their Blaze 2 CNC table, but decided instead to put more time into meeting customer requests. "We don't design machines just to say we did it," says Gustine, "We design what our customers need."
Steve Gustine may be contacted at PlasmaRoute CNC, 580-272-0515.
###