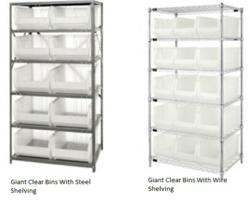 Order before March and get a five percent discount on any plastic bins ordered
Boston, MA (PRWEB) January 15, 2013
A Plus Warehouse has the prescription for plastic bins. Of course this is a funny headline, given that a medical doctor isn't who one asks about plastic bins. When customers may need plastic bins, an industrial distributor is the required agent. A Plus Warehouse is running the prescription promotion through March 2013. The promotion is a five percent discount for any plastic bin order. Having sold plastic bins continuously since 1996, A Plus Warehouse is able to prescribe the appropriate plastic bin for any application. According to Carrie Stairman, "Order before March and enjoy the 5 percent discount on plastic bins."
Plastic bins come in many styles, and A Plus Warehouse wants to make sure that customers get the plastic bins required. There are several main styles of plastic bins that are worth describing.
(1) Shelf Bins – These bins are typically 4 inches tall and are now made 6 inches tall as an option. Shelf bins can be nested, but are not stackable. Shelf bins are used in shelving units
(2) Hook On Bins – These bins hook onto louvered panels. Hook on bins can be found inside bin cabinets and on mobile bin carts. Some customers use hook on bins in shelving as when taken out of the shelving, hook on bins can stack.
(3) Straight Wall Containers – Known in the industry as 'SWC' bins , straight wall containers look very much like milk crates. SWC containers are provided with open or closed base and sides.
(4) Stack and Nest Bins – These plastic bins stack and can nest when rotated 180 degrees. Akro Mils and Quantum both manufacture Stack And Nest Bins
(5) ESD Bins- Great for delicate electronic parts
(6) See Through Bins – Excellent bins for product visibility.
A Plus Warehouse sells plastic bins from several domestic manufacturers. Each of these vendors understands the concerns customers have about shipping plastics nationwide. Through aggressive negotiation, plastic bins ship from A Plus Warehouse at a significantly discounted rate. Customers should never worry about asking A Plus Warehouse sales representatives for a freight and product quotation. The staff at A Plus Warehouse understands plastic bins and can help with most any application.
A few words about A Plus Warehouse:
A Plus Warehouse is a first generation family owned and operated business. A Plus Warehouse has never outsourced call center or other activities, and plans are to keep A Plus Warehouse an American company. In the face of much large competition, A Plus Warehouse has been able to bring value and service to customers since 1996. A Plus Warehouse is a nationwide materials handling dealer with a specialty in plastic bins.