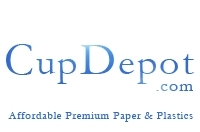 City of Industry, CA (Vocus) March 8, 2010
This spring, CupDepot.com, an online plastic cup manufacturer, is showering its loyal customers with great deals and discounts on plastic cup and paper hot cup purchases. By using coupon code SPRING10, customers will receive $10 off purchases of $200 or more. Additionally, purchases of food and beverage handling supplies valued at $500 and up receive discounts of $30 when applying coupon code SPRING30. Furthermore, discounts of $75 are available for bulk purchases of at least $1000 when customers key in the coupon code SPRING75. As an added treat from CupDepot.com, items purchased from within the continental US will be shipped for free.
Need to stock up on plastic cups and paper hot cups? Not a problem with CupDepot.com's irresistible price cuts on selected items from its catalog. 8oz. Karat® Earth Eco-Friendly Paper Hot Cups are now only $55 per case, down from their previous selling price of $95 per case. The 20oz. Karat® Earth Eco-Friendly Paper Hot Cup is now also retailing for $55 per case, amounting to an amazing savings of $26, or more for customers who are buying in bulk. The 16oz. Karat® Earth Eco-Friendly PLA Clear Cup with matching flat lid is available at the discounted price of $125.75 per bundle, down from $159.75. The larger version, the 20oz. Karat® Earth Eco-friendly PLA Clear Cup, along with its matching flat lid, is also having its price scaled down from $175.00 for each bundle to its new retail cost of $141.00.
In addition to competitively priced generic plastic cups and other beverage storage supplies, CupDepot.com also offers affordable and high-quality personalized plastic cups and paper cups. As a trusted name both in personal and professional circles, CupDepot.com continues to take care of its loyal customers by constantly offering the best deals and bargains on plastic cups, paper hot cups and other supplies. Log on and shop now because discounts are good only until March 31, 2010 or until supplies last. For more details on promotions and news updates, subscribe to CupDepot.com's bimonthly updates, or visit the official CupDepot.com blog.
About CupDepot.com
Based in City of Industry, Ca., Cupdepot.com is the exclusive manufacturer of Karat® and Karat® Earth paper and plastic products. CupDepot.com, a subsidiary of Lollicup® USA, Inc., offers affordable premium plastic and paper cups, utensils, containers, straws, and coffee cup jackets, among other items. Also headquartered in City of Industry, Lollicup® is known for its retail bubble tea drink stores under the Lollicup® Coffee and Tea name. They are also known for their Lollicup® Tea Zone brand line of coffee syrups and more. Press release produced by Cybertegic.com – an Internet marketing services agency that specializes in search engine optimized press release marketing (SEO Marketing).
# # #