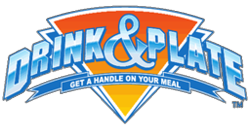 If you have ever been to a party or gathering where you're eating and drinking while standing, then you know how difficult it can be to juggle your plate and cup without spilling everything
Dixon, KY (PRWEB) September 26, 2011
Pioneer Plastics, a leading plastic injection molding company, announced today the launch of its latest product, the Drink & Plate -- a plate and drink holder in one. Winner of the Advertising Specialty Institute's 2011 Best Made in the USA Product Award, the DNP is the perfect solution to holding your drink and plate with just one hand during formal and informal events, including tailgating parties, picnics, potlucks, birthdays, backyard gatherings, camping and concerts.
"If you have ever been to a party or gathering where you're eating and drinking while standing, then you know how difficult it can be to juggle your plate and cup without spilling everything," said Eddie Knapp, Controller. "Unlike flimsy picnic plates, the Drink & Plate solves this problem by making it possible for guests to hold their drink and plates in just one hand. No more balancing your food and drink."
Dishwasher safe and made of high-impact plastic, the Drink & Plate holds paper, foam or plastic disposable plates and cups. This all-in-one plate with glass holder is ideal for formal and informal events, providing users with a free hand to eat, drink, and open doors with. The Drink & Plate is especially useful for outdoor events such as tailgating parties, making it one of the most popular tailgating supplies on the market.
When it comes to party themes, the Drink & Plate can match any style when you slide in a paper plate. Or, go green and use it without a disposable plate -- they are 100 percent food safe. Pioneer Plastics also offers many stock logo'd plates as well as customized Drink & Plates, which means customers can add personalized business logos, including full-color, high-resolution pictures.
The Drink & Plate is available in convenient family and party packs and can be purchased online at http://www.pioneerplastics.com/ as well as at several retail stores, including Camping World, Kroger, Walgreens and most Ace Hardware locations.
"For over 35 years, Pioneer Plastics has been passionate about discovering new technologies to streamline the plastics injection mold process, enhance plastics injection molding design and improve plastic injection molded products," said Knapp. "We are confident that our new product will live up to our name and appeal to customers who are searching for durable party plates for indoor and outdoor events."
About Pioneer Plastics
Pioneer Plastics is an injection molding company based in Dixon, Kentucky. With over 25 years of experience in the plastics injection molding industry, Pioneer Plastics offers full-service custom molding for plastic parts, including injection molding design, service molding, tool design and packaging and display. Products include plastic containers, display cases, clear plastic boxes, sustainable packaging and the Drink & Plate, for a variety of industries.
###