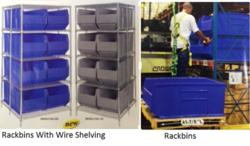 Aqua Lew Will Solve Customers Plastic Storage Bins Requirements
Boston,MA (PRWEB) November 27, 2012
A Plus Warehouse is a nationwide plastic storage bins distributor. With discerning customers coast to coast and most everywhere else, it is very important to offer excellent product lines. In the plastic storage bins arena, there are three power players that must be respected. These companies are Akro Mils, Quantum Plastics, and Lewis Bins. A Plus Warehouse understands the value brought to the distribution chain by each of these fine companies. By combining the names into on, A Plus Warehouse has come up with the Aqua Lew concept. Basically, plastic storage bins for any application can handled with the appropriate Aqua Lew plastic bin.
Each line has strengths that should be considered as part of a buying decision. Akro Mils is considered the 'Kleenex ™' of the plastic bin industry. Many customers look to order 'Akro Bins' not realizing that Akro is a brand name, and not a style! Akro revolutionized the storage equipment industry by offering the first shelf and stackable bins. Akro has grown since then and now offers stack and nest totes, open and close milk crate type bins, system bins with integrated dividers, Giant bins , bins with shelving and storage cabinets, as well as materials handling equipment. Akro Mils is a part of Myers, and Myers owns many related companies such as Buckhorn Plastics, and what used to be RB Manufacturing.
Quantum Plastics is a division of M&M. This is not the confectionary company. Quantum was initially a private label manufacturer. They would produce plastic bins from other companies' molds then package in the appropriate cardboard boxes. Years ago , Quantum made the decision to create their own line, and the Ultra Bin was created. Now Quantum produces tilt out bins, Rack Bins, ESD Bins, RECYCLED Bins, and a wide variety of shelving, cabinets and material handling carts.
The Lew of Aqua Lew is Lewis Bins. Lewis differentiates themselves by offering a very high capacity bin. The Leis Plexton Bin is a great bin for applications requiring an autoclave. Autoclave is a fancy work for a pressure cooker that sanitizes equipment by killing germs under heat and pressure. Lewis bins also offers fiberglass bins which are quite heavy duty. Lewis bins also offers a great stocking position for their various plastic storage bins.
According to Ed Stairman 'The Aqua Lew Bin system fills all customer needs.'
A Plus Warehouse is pleased to sell the entire line of Akro Mils, Quantum Storage, and Lewis Bins as well. Trained and friendly A Plus Warehouse salespeople are ready to help. A toll free number is available at 800-209-8798 for any and all Aqua Lew plastic storage bin questions.
A Plus Warehouse is a plastic bins distributor, and looks forward to being of assistance.