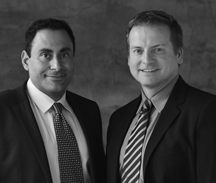 Los Angeles, CA (PRWEB) January 29, 2012
Local plastic surgeons in Los Angeles, Dr. Daniel Yamini and Dr. Steven Svehlak each received a 2011 Patients' Choice Award, and were further recognized as two of America's Most Compassionate Doctors. This is the second consecutive year both physicians have received these honors.
According to patientschoice.org, out of 830,000 active physicians in the United States, only 5% were accorded the honor of Patients' Choice Awards in 2011. Even less have been recognized among America's Most Compassionate Doctors (less than 3% in 2010). Both awards are based on reviews written by hundreds of thousands of patients. Patients' Choice ranks the top reviewed physicians and considers other quality measures to compile its yearly list, which is tabulated by MDx Medical, Inc. Each year, an increasing number of online users are finding that reviews can be a helpful tool when searching for a plastic surgeon Los Angeles patients can trust. Users on sites like Vitals.com rate various components of the care they've received, including bedside manner, doctor-patient face time, courtesy of office staff and follow-up care.
The surgeons, who are co-owners of Sunset Cosmetic Surgery, were delighted to have been recognized, and were grateful to their patients for taking the time to write reviews.
Both Los Angeles plastic surgeons are double board certified, which means they have passed the rigorous standards of both the American Board of Plastic Surgery and the American Board of Surgery. Specializing in cosmetic enhancements of the face and body, both surgeons are members of the American Society for Aesthetic Plastic Surgery and the American Society of Plastic Surgeons, and are Fellows of the American College of Surgeons. Several of their most popular procedures include the Brazilian butt lift, liposuction, tummy tuck, and breast enhancement surgery, including breast implants, breast lifts, breast asymmetry correction, and corrective surgery. While the majority of the doctors' patients are adults, Dr. Svehlak also sees children as young as five years old for otoplasty, also known as ear surgery or ear pinning.
The practice is a Black Diamond level provider of Botox and Juvederm, a recognition which is based on the volume of products ordered from the manufacturer, Allergan, Inc. In fact, Allergan maintains that less than 1% of injecting practices nationwide achieve this status.
For further information about the awards, visit PatientsChoice.org. For more information on Dr. Steven Svehlak or Dr. Daniel Yamini, located in Los Angeles, CA, please call 310-858-9100 or visit SunsetCosmeticSurgery.com.
Contact Info:
Sunset Cosmetic Surgery
Phone: 310-858-9100
Email Address: info(at)sunsetcosmeticsurgery(dot)com
###