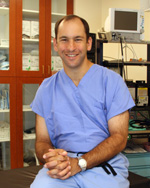 A breast reduction definitely makes my patients feel more comfortable in their own skin and their clothing
Atlanta, GA (PRWEB) August 16, 2012
Dr. Mark Deutsch, MD, FACS, board-certified plastic and reconstructive surgeon, has recently seen more patients complaining of back pain, aches and pains, and even headaches caused by large breasts. The condition affects nearly one million American women, and more women are seeking breast reduction cosmetic surgery in order to alleviate painful symptoms. Dr. Deutsch is performing more breast reduction surgeries as a result of the influx of patient visits.
The weight of larger breasts can cause severe pain without enough support from surrounding muscles. The weight can cause elevated tension and strain on back and neck muscles as the body compensates for the weight and abnormal position. Larger breasts and the pain associated make it difficult to maintain good posture and can even lead to spinal deformities. While typical complaints associated with larger breasts involve back and neck pain, aches, pains and even headaches, confidence can be adversely affected as well. Many women struggle to find appropriately fitted bras and undergarments since most department stores don't carry specialty or larger sizes. Ill-fitting undergarments can compound the problems and the pain a woman experiences.
"I've noticed a real increase in women coming to see me complaining of back pain," says Dr. Deutsch. "Some don't initially realize the weight of their breasts is causing all of their discomfort. A breast reduction definitely makes my patients feel more comfortable in their own skin and their clothing. It improves their self-esteem, too."
Dr. Deutsch is board certified by the American Board of Plastic Surgery in general, plastic and reconstructive surgery. Dr. Deutsch is one of the top plastic surgeons in Atlanta and has two office locations in the Atlanta area. For more discussion of the breast reconstruction procedures that Dr. Deutsch offers, visit Perimeter Plastic Surgery or call (770) 461-4824 to schedule a consultation.