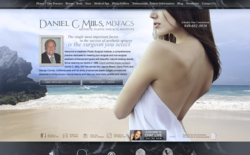 This is a chance for us to enjoy the company of our patients, have fun with them, and show our appreciation for their faith and loyalty throughout the year.
Laguna Beach, CA (PRWEB) December 08, 2011
At his plastic surgery practice in Orange County, Dr. Dan Mills has announced that he will host a "Holiday Night of Beauty" aesthetic event to provide patients with plastic surgery special offers, appetizers, and live demonstrations of the latest procedures. On December 15 from 5 to 8 p.m., Dr. Mills and his staff will offer drawings and door prizes including reduced pricing and special discounts on BOTOX® Cosmetic and other aesthetic treatments at an open house to raise awareness about the benefits of cosmetic enhancement. Dr. Mills says he is excited about the event and the opportunity to display some of the newest advancements in plastic surgery techniques and technology so patients can have a better understanding of the safety and efficacy of aesthetic treatment. "This is a chance for us to enjoy the company of our patients, have fun with them, and show our appreciation for their faith and loyalty throughout the year. We have several new services and products that some of our patients have not had an opportunity to see and become educated about, and we'd like to share our excitement with them at a special holiday rate."
The evening will include several special offers on skin care and dermal injection products along with drawings for free non-invasive procedures such as CoolSculpting®, the latest liposuction alternative that cools excess fat cells and causes them to break down and filter out of the body. Dr. Mills will be performing a live demonstration of the CoolSculpting® procedure during the event, along with a live seminar on the uplifting effects of Ultherapy®, a non-surgical ultrasound procedure designed to tighten and firm skin. He says patients can benefit from the chance to witness cosmetic procedures first-hand and get a better understanding of how the treatments are performed. "It's sometimes hard for our patients to imagine that non-invasive procedures can be very effective with very little, or no discomfort. Live demonstrations help us to show patients exactly what to expect and alleviate any fear they might have. It is very nice for them to be able to talk right then and there to a patient who is having the procedure."
In addition to the live expositions, Dr. Mills says patients in attendance will have the opportunity to take advantage of special discount pricing on cosmetic treatments ranging from BOTOX® Injections to skin care products and Latisse® eyelash enhancement. The event will allow patients who bring a friend to receive 20% off BOTOX® Cosmetic and dermal filler pre-purchases. Dr. Mills will also be offering reduced prices on Ulthera®, CoolSculpting®, Prevention Neck and Decollete Cream, and skin care products.
Dr. Mills says events such as the "Holiday Night of Beauty" can provide patients with exclusive deals and a more affordable cosmetic experience, as well as the chance to stay up-to-date with the latest and safest plastic surgery procedures. He adds that he hopes to broaden horizons concerning the benefits of plastic surgery and reaffirm his commitment to offering quality patient care. "This evening is an opportunity to have fun in a relaxed atmosphere with friends, celebrate the holidays, and gain education about what can be done to look your best at every age."
Patients interested in attending the event should RSVP at info(at)danmillsmd(dot)com. The event is limited to the first 200 people to RSVP.
About Daniel C. Mills, MD, FACS
Dr. Dan Mills received his medical degree from Loma Linda University School of Medicine. He completed the general surgery requirements for his plastic surgery residency at Wright State University and his plastic surgery residency at the Medical College of Ohio. Dr. Mills was on the Board of Directors of the American Society of Plastic Surgeons (ASPS), and he is currently on the Board of Directors of the American Society for Aesthetic Plastic Surgery (ASAPS); he is a board member and past president of the California Society of Plastic Surgery; and, he is the Chief of Plastic Surgery at Children's Hospital of Orange County at Mission Hospital in Mission Viejo, CA. He has dedicated about 20 years of his life to teaching plastic surgery residents at Loma Linda University and has published several books and papers on procedures such as transaxillary breast augmentation in Orange County, presenting his work to national and international audiences at conferences in plastic surgery.
Located at 31852 Pacific Coast Hwy, Ste. 401 in Laguna Beach, CA, Dr. Mills' practice can be contacted at (949) 681-9956. He can also be reached online through the website danmillsmd.com or http://www.facebook.com/danmillsmd.
###