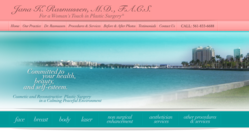 West Palm Beach, FL (PRWEB) May 10, 2011
The most recent study released by the American Society for Aesthetic Plastic Surgery (ASAPS) shows over half of all Americans now approves of cosmetic plastic surgery. As a board-certified plastic surgeon in West Palm Beach, FL, Jana K. Rasmussen, MD, FACS provides patients with plastic surgery with a woman's touch, while focusing on her office philosophy and motto, "An educated patient is a happy patient." She says social media plays an important role in satisfying these goals and increasing the public's approval of cosmetic enhancement because it is an influential part of the online community centering on her practice. Whether current patients are describing their previous experience with Dr. Rasmussen, or potential patients are hoping for further insight into her practice and the procedures she performs, such as liposuction, tummy tuck, or breast augmentation, she says she fully embraces social media at her practice.
At Dr. Rasmussen's plastic surgery practice, she says helping patients formulate their plastic surgery expectations plays an integral role in the success of each procedure. Whether potential patients are posing questions regarding a cosmetic procedure they are considering, or current patients are posting testimonials and reviews, Dr. Rasmussen says her practice's Facebook page can help educate patients and lead to more realistic surgical expectations.
While the initial patient consultation is essential to the process of patient education, Dr. Rasmussen says the interaction that occurs on Facebook has become instrumental in supporting her office philosophy. As she strives to create positive patient experiences with each aesthetic enhancement procedure, Dr. Rasmussen says social media not only increases the likelihood that she is able to achieve such a goal, but also strengthens each patient's connection to her and her practice.
About Dr. Rasmussen
Jana K. Rasmussen, MD, FACS earned her medical degree from the University of Kansas. She then completed her general surgery residency at Waterbury Hospital in Connecticut, and her plastic surgery residency at Yale University School of Medicine. Dr. Rasmussen is certified by the American Board of Plastic Surgery, and is a fellow of the American College of Surgeons. She has been in private practice in West Palm Beach for over twenty years. Dr. Rasmussen specializes in a wide range of procedures, including breast augmentation, tummy tuck, and facial rejuvenation.
Dr. Rasmussen's practice is located at 1717 North Flagler Dr. Suite 1 in West Palm Beach, FL 33407, and can be reached at (561) 833-6688, or found online at http://www.janakrasmussenmdfacs.com, or the Jana K. Rasmussen M.D., F.A.C.S Facebook page.
###