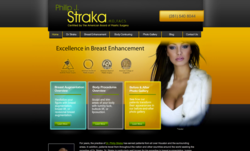 Houston, TX (PRWEB) December 15, 2011
The Houston plastic surgery facility operated by Dr. Philip Straka was recently certified by the American Association for Accreditation of Ambulatory Surgery Facilities (AAAASF). The AAAASF is an inspection and accreditation program for certifying the quality of surgical facilities and the standards of patient safety and care. Dr. Straka's practice provides services in plastic surgery, including breast implants in Houston. He says the recent certification marks his commitment to providing quality procedures and ensuring the highest level of safety for his patients.
In order to receive accreditation from the AAAASF, surgical facilities must meet certain requirements of excellence in patient safety and quality of care. Conducted by physicians, podiatrists, and oral and maxillofacial surgeons operating under a Board of Directors, inspections verify quality in general environment, operating and recovery room policy and procedures, general safety, blood and medications, medical records, anesthesia, personnel, and several other categories of care. Dr. Straka's facility in Houston received the highest class (Class C) available by the AAAASF, for performing anesthesia in all surgical, endoscopic, and pain management procedures.
Dr. Straka says he hopes the recent accreditation will assure patients of his dedication to serving patients with safe, effective treatment. He also says he is excited about offering patients the maximum level of comfort and peace of mind as they are undergoing a procedure to enhance their body and their quality of life.
About the American Association for Accreditation of Ambulatory Surgery Facilities (AAAASF)
The AAAASF was founded in 1980 as a way to standardize and improve patient care in surgical facilities. It is currently the largest not-for-profit accrediting organization in the United States with over 1000 ambulatory surgical facilities. AAAASF has been instrumental in the implementation of state legislation in California, Texas, Florida, Georgia, and several other states mandating the accreditation of all outpatient facilities that administer general and sedation anesthesia.
About Philip J. Straka, MD, FACS
Dr. Philip Straka received his medical degree from Northwestern University Medical School in Chicago. He completed his general and plastic surgery residencies at Ohio State University. Dr. Straka is board-certified by the American Board of Plastic Surgery, a Fellow of the American College of Surgeons, and a member of the American Society for Aesthetic Plastic Surgery, the American Society of Plastic Surgeons, and several other organizations. He also contributed as a principle investigator in the Mentor and Allergan silicone gel breast implant studies for the U. S. Food and Drug Administration.
Located at 19701 Kingwood Dr., Bldg, 2 in Kingwood, TX, Dr. Straka's practice can be reached at (281) 540-1164. It can also be contacted online via the website drstraka.com or facebook.com/pages/Philip-J-Straka-MD-FACS/107963709972.
###