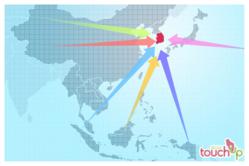 Traveling Abroad for Cosmetic Plastic Surgery Is Now Made Easy With Seoul TouchUp's Unique No Upfront Payment System.
Gangnam, Seoul, South Korea (PRWEB UK) 16 December 2012
Traveling abroad for cosmetic plastic surgery is now made easy with Seoul TouchUp's unique no upfront payment system. Moving away from industry standards whereby customers are required to outlay considerable amounts of money in the form of a deposit, Seoul TouchUp has eliminated this step. A US$100 reservation fee and a copy of the flight itinerary would suffice customers to initiate their dream of plastic surgery in Korea with Seoul TouchUp.
Full payment for surgical cost is only required after a face-to-face pre-operative consultation with the attending surgeon. Consultation is viewed as an integral part of establishing a relationship between patient and surgeon to achieve the best possible result for the patient. The choice and decision to move forward with surgery is only made after the patient is comfortable with the surgeon, device and the procedure. Similarly, full payment for package costs is only required after arrival in Korea.
Being committed to make the entire plastic surgery travel process as relaxed as possible, Seoul TouchUp offers customers the convenience of a personal medical coordinator to organize and manage all surgical and medical related aspects – one that is guaranteed to deliver all the pleasures of having plastic surgery abroad without the usual compromise or limitations. Customized plans to suit varying budgets as well as chauffer and translation services are also available.
Although Korean plastic surgery is widely known to be the world's best, selecting a qualified and experienced plastic surgeon is an extremely important factor in the safety and success of any cosmetic plastic surgery. Seoul TouchUp is committed to excellence in surgical results by partnering only with medical practitioners that are experienced and board-certified by the Korean Board of Plastic Surgery. For further details on the range of procedures and travel packages, please visit the website at http://www.seoultouchup.com