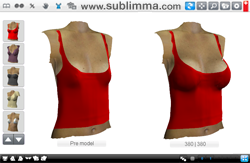 e-Stetix is different to other 3D plastic surgery software based on 'morphing'
Lausanne, Switzerland (PRWEB) October 11, 2011
Fat injection procedures are becoming a new trend in plastic and aesthetic surgery. An increasing number of patients around the world are requesting this new and less invasive procedure.
e-Stetix 3D plastic surgery software introduces a new 3D volumetric editor, offering patients and doctors an innovative way to both visualize in 3D, and modify fat volumes on specific regions of the body, such as the breasts.
Doctors may then provide patients with a before-and-after 3D visualization of the breast augmentation procedure, whether using fat injections or breast implants, helping patients significantly with their decision making process.
The fat injection procedure
The aim of fat injections (also known as 'fat transfer' or 'fat grafting') is to add fullness to the face, lips, cheeks, buttocks or hands, to create a more youthful appearance. Fat injections are also increasingly used for cosmetic breast augmentations and reconstruction after breast cancer surgery. It is a minimally invasive procedure and a natural alternative to breast augmentation using breast implants.
According to the American Society of Plastic Surgeons (ASPS), ASPS member surgeons performed 57,643 fat injection procedures in 2010 – an increase of 14% from the previous year.
Dr K-U Schlaudraff, Concept-Clinic in Geneva :
"Fat grafting procedures have become increasingly popular with patients because their own excess fatty tissue from the abdomen, hip or thighs is used to enhance or reconstruct lost tissue volume in various body areas like the face, buttocks or breast. Stem cell-enriched fat grafting to the breast - usually referred to as 'natural breast augmentation' - provides natural and almost scar-free results that are stable in the long term.
Visualization through e-Stetix by Crisalix shows the patient in 3D what results they can expect after their surgery. It allows the patient to make a better informed preoperative choice for both the desired volume and the surgical method and enables the surgeon to precisely plan the fat grafting or implant procedure to the breast.
Crisalix's commitment to the development of the 3D technology from simple standard 2D pictures allows us to communicate efficiently with our patients and to document the success of the fat grafting procedures over the long term."
e-Stetix – the first web-based 3D simulator for plastic surgery
e-Stetix is different from other plastic surgery simulation software based on 'morphing'. It is the first web-based 3D simulator that takes into account the physical properties of the human body, such as the torso, fat, glandular tissue, skin and muscles, in order to simulate both the insertion of implants or fat injections in a realistic and accurate manner.
e-Stetix's tissue elastic model (TEM) accurately reconstructs the patient's own body, from the inside out, in 3D,using volumetric slices called "voxels" that integrate properties of the muscle, skin, fat and glandular parts of the body at a level of detail never achieved until now.
Using the latest technologies and employing sophisticated scientific calculations on high performance supercomputers based in Swiss data centers, every patient can see unlimited and instantaneous 3D simulations of her new body online during the consultation.
About Crisalix
As a pioneer in its field, Crisalix has developed a system for reconstructing the patient's body in 3D from 2D images.
The e-Stetix state-of-the-art 3D breast implant simulation tool is based on the latest advancements in surgical technology, 3D, biomechanics and information technology, from two world-renowned research & development centers, the Institute for Surgical Technology & Biomechanics at the University of Bern, and the Federal Polytechnic University of Lausanne, both located in Switzerland.
Crisalix recently launched a dedicated patient website, Sublimma.com, which serves as a platform for patients to learn about breast augmentation and 3D consultations. A key feature of Sublimma.com is the Surgeon Finder, an online tool to find plastic surgeons offering 3D simulation technology.
###