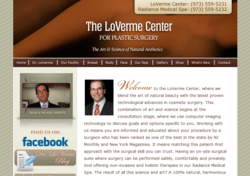 (PRWEB) May 11, 2011
More than 9.3 million cosmetic procedures were performed in 2010 as more than half of Americans now approve of cosmetic surgery, according to the latest statistics from the American Society for Aesthetic Plastic Surgery (ASAPS). With demand for surgical cosmetic procedures increasing more than 9% in 2010, Dr. Paul LoVerme is announcing springtime specials on silicone implants for breast augmentation, body contouring, and facial rejuvenation at his New Jersey plastic surgery practice.
As a board-certified plastic surgeon in New Jersey, Dr. LoVerme says he blends the art and science required of cosmetic surgery to enhance the natural aesthetics of his patients. Whether he is performing non-invasive facial rejuvenation, or surgical procedures such as liposuction and breast augmentation in New Jersey, Dr. LoVerme says a patient-first approach means matching surgical expertise and skill to the each patient's aesthetic enhancement goals.
With summer fast approaching, Dr. LoVerme says he designed the breast augmentation and liposuction springtime specials to address the time-sensitive goals often associated with this time of year. Considering the latest statistics from ASAPS, he adds that he expects to see an even greater increase in the number of procedures his practice traditionally sees at this time of year as more and more Americans approve of aesthetic enhancement.
About The LoVerme Center Springtime Specials
The plastic surgery specials at The LoVerme Center are valid from now through June 30, 2011. The offer includes discounts on silicone implants, liposuction for men and women, and skin care services at the Radiance Medical Spa. For more information, call The LoVerme Center at (973) 857-9499, or visit The LoVerme Center for Plastic Surgery – New Jersey Facebook page.
About Dr. LoVerme
Paul J. LoVerme, MD earned his medical degree from the UMDNJ, New Jersey Medical School, where he also completed his general surgery residency. He then completed his plastic surgery residency at the Medical College of Ohio. Dr. LoVerme is certified by the National Board of Medical Examiners, the American Board of Surgery, and the American Board of Plastic Surgery. He is a member of the American Society of Plastic Surgery, the American Society for Aesthetic Plastic Surgery, the New Jersey Society of Plastic Surgeons, and the Plastic Surgery Foundation.
The LoVerme Center for Plastic Surgery is located at 825 Bloomfield Ave., in Fells Plaza Suite 205 in Verona, NJ 07044, and can be found online at http://www.lovermecenter.com.
###