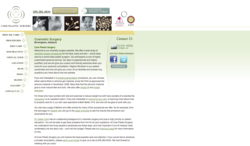 Birmingham, AL (PRWEB) November 22, 2011
According to the most recent statistics from the American Society for Aesthetic Plastic Surgery (ASAPS), 9.3 million cosmetic surgical and nonsurgical procedures were performed in the U. S. in 2010. While Dr. Grady Core, a board-certified plastic surgeon in Birmingham, AL, finds the sheer volume of procedures performed in 2010 impressive, he stresses the 51% approval rating of cosmetic surgery is far more intriguing. As healthcare practices continue to dedicate more resources to forming online communities through social media sites such as Facebook, he says he expects the overall acceptance of procedures such as liposuction, breast augmentation, and breast lifts to continue to climb.
Dr. Core says he finds this data interesting and wonders how social media marketing will impact the aesthetic healthcare industry as a whole. Similar to conferences such as the annual meetings of ASAPS and the American Society of Plastic Surgeons, Dr. Core says that the appeal of social media lies in the ability to interact between plastic surgeons and patients interested in cosmetic enhancement, and enables these communities to learn more about the latest innovations and techniques in the industry.
Another point of interest within the ASAPS report and growing popularity of social media is the correlation between age-related demographics: patients aged 50 and up accounted for 31% of cosmetic procedures in 2010, which is also the fastest growing demographic on Facebbok. As the two seemingly disparate entities continue to come together, he says he expects the 2011 ASAPS report will find support for cosmetic surgery in the U. S. has continued to expand.
About Grady Core, MD
Dr. Grady Core earned his medical degree from the University of Arkansas. He then completed his general surgery residency at Flushing Hospital Medical Center, and his plastic surgery residency at the Mayo Clinic in Rochester, MN. Dr. Core served as Chief of the Division of Plastic and Reconstructive Surgery at the Ochsner Clinic in New Orleans, and regularly publishes and presents at plastic surgery meetings around the world. He is certified by the American Board of Plastic Surgery and the American Board of Surgery, and is a member of the American Society for Aesthetic Plastic Surgery and the American Society of Plastic Surgeons. Dr. Core is also well known throughout as a developer of the endoscopic breast augmentation procedure, which is a topic he lectures on regularly at international plastic surgery events.
Core Plastic Surgery is located at 2100 16th Ave. South in Ste. 111 – Ash Place in Birmingham, AL 35205, and can be reached at (205) 282-4034, or found online at coreandassociates.com or facebook.com/pages/Plastic-Surgery-Birmingham-Dr-Grady-Core/198036220990.
###