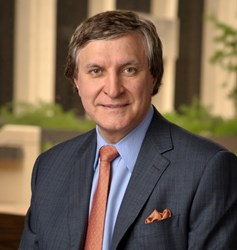 Dallas, TX (PRWEB) September 04, 2013
In a newly released instructional video, Dallas plastic surgeon, Professor, and Chairman of the Department of Plastic Surgery at UT Southwestern Medical Center, Dr. Rod J. Rohrich, performs a detailed demonstration of his innovative five step lower blepharoplasty and cheek blending technique. The comprehensive surgical demonstration includes upper and lower blepharoplasty, tear trough correction, fat compartment volume restoration, and periorbital rejuvenation which blends the eyelid-cheek junction.
Lower blepharoplasty, surgically addressing the area under the eyes, can be a challenging area for plastic surgeons. The increased potential for long term complications combined with marginal aesthetic outcomes discourages many surgeons from performing the technical maneuvers necessary for optimal periorbital restoration.
"Addressing the eyelid-check junction is a very important part of achieving great results when performing blepharoplasty, but is often treated as a separate procedure than blepharoplasty," explains Dr. Rohrich. "However, I believe the best approach to eye lifts should routinely include treating this area as well so you can truly blend the eyelid-cheek junction and reproduce a youthful eye and cheek. I hope this instructional video will encourage more widespread use of this technique."
The video demonstration shows a simplified five step approach. The five steps discussed and illustrated in the video are: (1) augmentation of the supportive deep malar fat compartment, (2) preservation of the lower lid orbicularis oculi muscle with minimal, if any, transconjunctival fat removal, (3) selective release of the orbicularis retaining ligament, (4) establishment of the strengthening of the lateral canthal support (lateral retinacular suspension), and (5) minimal skin removal using a skin pinch technique.
The video demonstration is published by the Plastic and Reconstructive Surgery Journal, and is available for viewing on their website.
About Rod J. Rohrich, M.D., F.A.C.S.
Dr. Rod J. Rohrich holds the Betty and Warren Woodward Chair in Plastic and Reconstructive Surgery at UT Southwestern Medical Center. He also holds the UT Southwestern Medical Center Crystal Charity Ball Distinguished Chair in Plastic Surgery. Dr. Rohrich graduated from Baylor College of Medicine with high honors, and completed residencies at the University of Michigan Medical Center and fellowships at Massachusetts General Hospital/Harvard (hand/microsurgery) and Oxford University (pediatric plastic surgery). He has served as president of the American Society of Plastic Surgeons, the largest organization of board certified plastic surgeons in the world. He repeatedly has been selected by his peers as one of America's best doctors, and twice has received one of his profession's highest honors, the Plastic Surgery Educational Foundation Distinguished Service Award, which recognizes his contributions to education in plastic surgery. Dr. Rohrich participates in and has led numerous associations and councils for the advancement of plastic and reconstructive surgery. He is a native of North Dakota and is married to Dr. Diane Gibby, also a plastic surgeon. They live in Dallas with their two children.