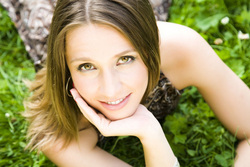 Our practice definitely sees an upswing in clients... during the week of Spring Break alone this year, we did almost twenty breast augmentation surgeries. At our office, we call that week our aug-athon.
Oklahoma City, OK (PRWEB) April 2, 2010
The economy has impacted many things, but not the desire of many women and men to get their bodies summer-ready as the season of beach vacations and poolside lounging inches closer.
The Medical Spa by Dr. Juan Brou, a plastic surgery practice located just minutes north of Oklahoma City, reports a significant increase in recent weeks of women and men turning to cosmetic procedures for pre-summer fine-tuning.
"When the weather starts to warm up, our practice definitely sees an upswing in clients seeking to improve their appearance. In fact, during the week of Spring Break alone this year, we did almost twenty breast augmentation surgeries. At our office, we call that week our aug-athon. It was a very busy week," said Juan Brou, M.D., a board certified Oklahoma City plastic surgeon.
He said spring is actually a very good time to consider cosmetic procedures because most procedures do require some healing time for maximum results. To be summer-ready by June, it's generally best to book your procedures in April and May.
"Waiting too long to book their appointment is one of the biggest mistakes people make," Brou said.
It was more surgeries than he has done in a single in the entire past year. In addition to breast augmentation, Brou said tummy tucks, liposuction and facial rejuvenation, as well as laser hair removal, tend to be the procedures of choice at this time of year.
Here is a snapshot of the more popular pre-summer procedures:
Breast augmentation – Surgery to enlarge the breasts remains the most popular cosmetic procedure for women, but simply wanting bigger breasts isn't the only reason for having this type of surgery. Breast enhancement is often done to balance a woman's figure, ensuring that clothes fit better. It's also performed to correct asymmetry or size differences between the breasts and to restore the volume and fullness lost after pregnancy, breastfeeding or major weight loss.
Tummy tuck (abdominoplasty) – For women who've had children or no longer are happy with the appearance of their midsection even after weight loss, a tummy tuck may be the springtime procedure of choice. Tummy Tuck is a surgical procedure that repairs the abdominal muscles or abdominal wall and removes excess skin resulting from pregnancy or extreme weight loss. In some cases, small hernias and old surgical scars from a hysterectomy, c-section or appendectomy can be removed too. Liposuction is often used in conjunction with a tummy tuck to allow further contouring and thinning of the abdomen.
Liposuction – People carry their body fat in different ways, and these are genetically determined. Some areas are more resistant than others to diet and exercise. That's where liposuction comes in. It can help "sculpt" the body in a lot of areas. Women usually have the procedure performed on their hips, thighs, "love handles," calves and arms. In men, it's more commonly done on bellies, love handles, chests and chins. It is often performed in conjunction with other surgical procedures.
Laser Hair Removal – Laser hair removal helps trim time spent shaving or waxing during the summer months. It has grown increasingly popular due to advancements that make the treatment longer lasting and more comfortable, In laser hair removal, a beam of light energy passes through the skin to target and destroy the hair follicle, preventing the re-growth of the hair. Over time, new hair follicles grow in new areas and follow-up treatments may be required, but results typically last for about a year.
Facelift – Technically known as a rhytidectomy, a facelift is a surgical procedure that rejuvenates the face by removing excess skin, tightening the facial tissues, trimming the fat and sculpting the face to make it look more youthful. When done properly, the skin should not look pulled, unnatural or scarred. A facelift can be done in conjunction with other procedures such as a brow lift, forehead lift or eyelift to complement the rejuvenation process.
Facial Rejuvenation – Because many women opt for the look of less makeup during the summer months, non-surgical facial rejuvenation procedures are increasingly popular during spring too. Sculptra Aesthetic is one of the newer rejuvenation products on the market. Done as an in-office procedure it produces age-erasing results by restoring volume to the face often lost with age. Some improvement is seen immediately following the procedure and gradual improvement continues thereafter. Dermal fillers like Juvederm, meantime, offer a quick boost to your appearance, filling lines and plumping lips; Botox remains popular year-round for its age-erasing effects; and microdermabrasion treatments bring smoother, younger-looking skin.
For more information about any of these procedures, to view videos or if you have questions about cosmetic surgery, visit plasticsurgeon-oklahoma.com.
###