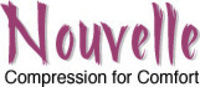 Nouvelle manufactures and distributes post-surgical compression wear worldwide from its state-of-the-art facility in Virginia Beach, VA.
Virginia Beach, VA (PRWEB) July 27, 2011
Nouvelle, Inc. is excited to announce a significant expansion of its design and manufacturing team. In the past month, the company has designed several new products and hired additional staff to meet increasing demand for its post-surgical compression wear garments.
"We've added several new seamstresses to our team, and increased our administrative staff to handle the additional summer workload," said Dawn Cover, president of the internationally-recognized compression wear manufacturing company.
Cover added that sales of its garments show a strong correlation with the top five plastic surgery procedures noted in recent statistics released by the American Society of Plastic Surgeons (ASPS).
Top Five Cosmetic Surgery Procedures
1. Breast Augmentation-296,000
2. Nose Reshaping-252,000
3. Eyelid Surgery-209,000
4. Liposuction-203,000
5. Tummy Tuck-116,000
Top Five Compression Garments Manufactured and Sold in June/July
1. Girdles
2. Bodysuits
3. Compression Sets
4. Facial Support
5. Male Garments
In addition to its comprehensive line of compression wear garments, Nouvelle also carries ScarHeal products as part of its ongoing commitment to superior results following cosmetic, plastic and aesthetic procedures. The crèmes, gels and silicone strips feature a combination of ingredients designed to help calm inflammation and tame overactive collagen in scars resulting from surgery, burns, wounds, and keloids.
Additional Resources
Healing Transformations
An online forum dedicated to patients, physicians and families of anyone recovering from the myriad of emotional and physical health issues surrounding aesthetic and reconstructive surgery.
Nouvelle Inc. Facebook Page
Look for new products, stories from customers, and helpful recovery tips on Nouvelle's Facebook page. One of the first 100 people to "like" the page will be entered into a special drawing to win a free compression or shapewear product.
About Nouvelle:
Nouvelle manufactures and distributes post-surgical compression wear, body shaping garments, and scar care products worldwide from its facility in Virginia Beach, Va. Its internationally-recognized products are available through approved distributors and online at http://www.nouvelleinc.com.
For more information about purchasing or distributing the company's products, please contact Dawn Cover via email or telephone.
###