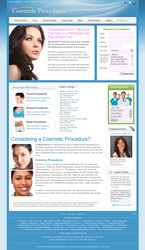 We can help patients cut through the search process.
Tampa, FL (Vocus) April 6, 2010
Every day more and more people are going online to research procedures with the intent of making better health decisions and finding a plastic surgeon or cosmetic dermatologist. MyCosmeticProcedures.com, a Web site for patients looking to boost their self-image and appearance through plastic and cosmetic surgery, seeks to improve the new patient experience by increasing patient information and expanding interactive resources.
Patients seeking plastic surgeons and cosmetic dermatologists in their city can search an online directory with hundreds of providers across the United States and Canada, or browse specific city pages geared towards providing instant access to the top providers in that particular city. MyCosmeticProcedures.com currently offers city pages for Scottsdale, AZ, Los Angeles, CA, Miami, FL, Atlanta, GA, Chicago, IL, St. Cloud, MN, Charlotte and Raleigh, NC, New York City, Reno, NV and Houston, TX.
Upcoming cities to be highlighted on the site will include cities with plastic surgeons and dermatologists in Colorado, Missouri, New Jersey and Texas.
Patients seeking referrals who don't have the time to search through provider listings can now submit a general "request for consultation." form that targets several of the top practices in their local area at once.
"We can help patients cut through the search process." says Christina Majeed, VP New Products and Technologies. "By submitting a general request for consultation directly from the home page, patients can submit their request to several plastic surgeons and dermatologists in their area at once. The practices will then contact the patient, saving the patient the time of contacting every doctor individually."
MyCosmeticProcedures.com offers patients a directory of listings from plastic surgeons in their area and cosmetic dermatologists, but unlike other sites and referral services the site does not bombard the visitor with dozens of paid placement listings and provider advertising, focusing instead on select, qualified physicians and procedural content.
Patients considering a cosmetic procedure or plastic surgery always have questions and concerns. MyCosmeticProcedures.com provides a resource for patients to ask the basic questions, in optional anonymity, about symptoms, cosmetic procedures and surgeries they may be considering, recovery times and ultimately, the general types of results one can expect from cosmetic surgery.
Patients submitting questions to "Ask the Experts" will have their questions answered by a plastic surgeon or cosmetic dermatologist in their local area or the nearest city. The patients can then follow-up with if and when they decide to schedule a consultation.
"This is an important feature of our site." says Christina. "Patients often have general questions or require clarification about information, sometimes conflicting information they may have read or heard about. By getting an answer from a physician in their area, it helps them facilitate their research and ultimately puts them in touch with someone when the time comes for them to move forward with their procedure."
It's no surprise that patients researching cosmetic procedures and plastic surgery online search "before and after" photos and pictures of patients treated by cosmetic surgeons in their area. MyCosmeticprocedures.com employs an interactive slideshow to help patients find post-operative photos of real patients and the results they have had with a particular procedure. Patients can view the pictures in an automated slideshow, navigate through pictures and albums one by one, or watch the slideshow in an impressive full-screen mode.
The "Before and after" section of the Website offers a wide selection of photos from several plastic surgeons on the Web site. Unlike other sites where physician galleries are separated by provider, the galleries at MyCosmeticProcedures.com are geared towards showing the patient a wide range of results.
Before and after picture galleries are broken down by procedure type (face, breast or body), with photo albums of real patient results from several providers grouped into one place. For example, patients can look through before after necklift or before and after breast augmentation photos separated into individual doctor albums without having to go from doctor listing to doctor listing. Patients reading the listing for a plastic surgeon or cosmetic dermatologist in their city can click a link to that doctor's gallery page where all of their albums and all of their procedures are highlighted in one place.
MyCosmeticProcedures.com continues to maintain the "Cosmetic Procedures Blog" - a syndicated blog focused on the highlights, trends and news surrounding plastic surgery and cosmetic procedures. The blog features expanded procedural information, news and information on advances in plastic surgery, highlights of cosmetic procedures in the media and the occasional editorial about current events and topics and events relevant to plastic surgery, cosmetic procedures and patient safety.
"There are always new procedures on the rise and newly emerging techniques coming to the forefront of cosmetic surgery." says Christina. "We strive to provide patients the information they need to make the most informed decisions and the tools to contact the top cosmetic surgeons and doctors for enhancing, rejuvenating and refreshing their appearance."
As the site continues to develop in 2010, the team at MyCosmeticprocedures.com plans to vastly expand their procedural information, provider directory, visitor tools and resources. In addition, MyCosmeticProcedures.com is also planning to begin publishing specialized content submitted by respected plastic surgeons, offering patients an even deeper insight into the procedures and options they may be considering.
About
MyCosmeticProcedures.com was launched in Q4 of 2009. The Website is geared towards the patient community and offers information regarding cosmetic procedures, dermatological treatments and plastic surgery. MyCosmeticProcedures.com is for patient education and doctor referral purposes, and does not provide medical advice, diagnoses or treatment. MyCosmeticProcedures.com is socially active and can be found on Facebook and Twitter, where the site regularly "Tweets" beauty tips and other information under the name @CosmeticSite.
###