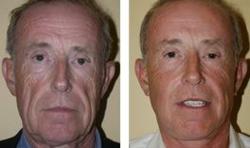 More and more men are interested in taking advantage of the facial rejuvenation treatments that women have known about for years
Los Angeles, California (PRWEB) November 22, 2011
Los Angeles plastic surgeon Babak Azizzadeh MD FACS has noticed a steady increase in male patients over the past few years. "More and more men are interested in taking advantage of the facial rejuvenation treatments that women have known about for years," said Dr. Azizzadeh.
According to the American Society of Aesthetic Plastic Surgery (ASAPS) in 2010 approximately 750,000 men received cosmetic procedures.This represents an 88% increase in male plastic surgery since 1997. Among the top cosmetic procedures performed on male patients were rhinoplasty, eyelid surgery and injectables.
While males only make up 8% of cosmetic surgery patients nationally, 25% of Dr. Azzizadeh's patients at the CENTER for Advanced Facial Plastic Surgery are male. Aside from wanting facial plastic surgery as a means to rejuvenate the face, a common reason men are interested in cosmetic treatments is so that they are able to better compete within the workplace.
Dr. Azizzadeh explains there is a big difference in his approach to treating men vs. women. Not only is there an ideological difference in aesthetic demands between men and women, but there is also a significant difference in the way men and women age. "It is important that plastic surgeons have adequate experience performing cosmetic surgeries on men to ensure that male patients receive natural looking results," said Dr. Azizzadeh. "In addition to surgical technique, it is also important men find a surgeon that understands the importance of subtlety. Male patients often prefer more conservative results so that they do not end up looking like they have had a lot of work done."
Dr. Babak Azizzadeh, the Chairman and Director of the CENTER for Advanced Facial Plastic Surgery in Los Angeles, is a Harvard-trained facial plastic surgeon, specializing in cosmetic and reconstructive plastic surgery of the face, eyes and nose. He is double board-certified by the American Board of Facial Plastic and Reconstructive Surgery as well as the American Board of Otolaryngology-Head & Neck Surgery. His expertise in cosmetic and reconstructive plastic surgery has made him one if the most sought-after surgeons in the country.
In addition, Dr. Azizzadeh is also highly skilled in non-surgical facial rejuvenation treatments, including lasers, Ulthera, injectables, fat grafting, chemical peels and liquid facelifts. He has written 5 medical textbooks, lectured around the world and been featured in national media outlets including The Oprah Winfrey Show, The New York Times and Discovery Health for his extensive knowledge in facial plastic surgery.
Located in the heart of Beverly Hills, the CENTER provides our patients the most comfortable and technologically advanced facilities in the field of medicine. For more information about the CENTER for Advanced Facial Plastic Surgery and plastic surgery for men please visit visit http://www.facialplastics.info
###