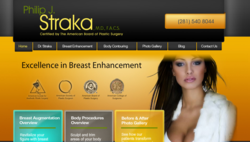 Houston, TX (Vocus/PRWEB) March 29, 2011
At his Houston plastic surgery practice, Dr. Philip Straka is announcing the completion of an innovative new facility designed to enhance his dedication to patient care. As he remains committed to the safety and effectiveness of each cosmetic surgery he performs, Dr. Straka says the new facility provides private, convenient services that meet and in some ways exceed the high level of care available at many hospitals. Regardless of whether his patients are considering a breast augmentation or tummy tuck, he adds that every facet of comprehensive patient care has been taken into consideration to ensure he and his team meet the aesthetic enhancement goals of every patient.
Dr. Straka says he recognizes the desire for discrete care is especially important for patients considering cosmetic enhancement. He stresses the new facility further improves his practice's ability to respect a patient's privacy throughout the entire aesthetic enhancement process – from the initial consultation, to formulating patient expectation and choosing the size and type of breast implants, to patient safety and recovery.
In addition to investing in the latest cosmetic enhancement technology, Dr. Straka says assembling a team comprised of some of the best in the plastic surgery industry is also essential to the success of his new facility. Dr. Straka says with the support of nurses he has personally worked with for more than 10 years, and a board-certified anesthesiologist with more than 20 years of experience, the new facility is currently undergoing the certification process with the American Association for Accreditation of Ambulatory Surgery Facilities to further enhance the level of care available for patients considering plastic surgery in the Houston area.
As Dr. Straka welcomes patients to his new state-of-the-art facility, he says patient comfort was considered every step of the way. From spa-like recovery rooms to a warm and inviting waiting room, he says creating a positive patient experience was essential to him and his team from the beginning.
About Dr. Straka
Dr. Philip J. Straka earned his medical degree from Northwestern University Medical School, and completed his general and plastic surgery residencies at Ohio State University. He is a fellow of the American College of Surgeons, and is a member of the American Society for Aesthetic Plastic Surgery and the American Society of Plastic Surgeons. Dr. Straka maintains the greatest respect for patient safety, and served as a Principle Investigator in several major Silicone Gel Breast Implants studies.
Dr. Straka's practice is located at 19701 Kingwood Dr., Bldg. 2, in Kingwood, TX 77339, and can be reached at (281) 540-8044, or found online at http://www.drstraka.com or the Philip J. Straka, MD, FACS Facebook page.
# # #