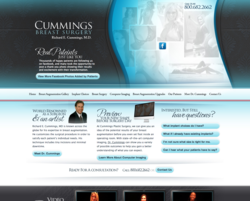 Kinston, NC (PRWEB) September 13, 2011
Dr. Richard Cummings is announcing the launch of a new North Carolina plastic surgery website dedicated to breast augmentation and breast implants. His North Carolina plastic surgery practice provides a special focus on breast surgery. The website is a branch of his main plastic surgery site that offers a more diverse portfolio of treatments and procedure options. While the two sites maintain some similarities, the new branch features a unique and specific look at breast lift and augmentation procedures. Along with extensive photo and video galleries, the site divides the breast surgery procedure into multiple sections that each provide details about the steps involved and the options available. Dr. Cummings and his practice seek to provide a thorough and individualized attitude towards every patient. He says that the new website gives him the chance to connect in a much more personal way with his patients through educational resources and patient-doctor communication.
The new website features a number of video testimonials and before-and-after galleries for patient information and stories about individuals' experience with treatment. Dynamic tabs link to pages that include more extensive information on the procedures his practice offers and available options. Located in Kinston, NC, Cummings Plastic Surgery is launching the website in the hopes of enhancing patient education and improving doctor-patient relationships. Dr. Cummings says that his main focus is to allow patients access to an interactive online experience that is both informative and easy-to-use.
Cummings Plastic Surgery worked with Rosemont Media, a medical website design firm based out of San Diego, to develop the new site. Some notable features include the incorporation of social media buttons and a Facebook plugin that monitors the status, news, and friend-count of the Cummings Plastic Surgery Facebook page. Dr. Cummings says that the new website will hopefully be a great way to keep his patients informed and up-to-date about breast surgery procedure options.
About Richard E. Cummings, MD
Dr. Richard Cummings graduated from medical school at the University of Miami School of Medicine in Miami, FL. He completed his General Surgery residency program and internship at Jackson Memorial Hospital in Miami and his Plastic Surgery residency at Loyola University Medical Center and Cook County Hospital in Chicago, Illinois. He serves as the Chief of the Division of Plastic and Reconstructive Surgeons at Lenoir Memorial Hospital.
Located at 5080 Hwy. 70 West in Kinston, NC, Cummings Plastic Surgery can be contacted at (800) 682-2662 or online via their website northcarolinabreast.com, cummingsplastic.com or facebook.com/cummingsplastic?v=wall&ref=ts.
###