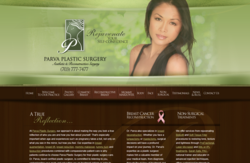 Leesburg, VA (PRWEB) June 23, 2011
At his Virginia plastic surgery practice, Dr. Behzad Parva is announcing the recent launch of a comprehensive and innovative new website to further enhance both current and potential patients' virtual experience with Parva Plastic Surgery. He says the new site is designed as a comprehensive online resource for anyone considering the range of cosmetic enhancement procedures he performs, such as breast augmentation, tummy tuck or liposuction, as well as nonsurgical procedures such as BOTOX ® Cosmetic or dermal fillers.
At Parva Plastic Surgery, Dr. Parva says the ultimate aesthetic enhancement goal is to create a true reflection of who each patient is and how they feel. One way to achieve this level of care is through understanding the unique reasons a patient is pursuing cosmetic enhancement, as well as their expectations. Whether his patients are considering a subtle enhancement or a dramatic transformation with a combination of procedures known as the mommy makeover, Dr. Parva says he strives to promote positive experiences to support each patient's self-confidence and sense of well being.
Dr. Parva says he also specializes in breast reconstruction, which requires a specific and compassionate approach to enhance the level of care. When his patients face a lumpectomy or mastectomy, he says he hopes the website can provide the initial information to help ease this profound and impactful experience. However, he also stresses that any form of breast reconstruction is a meaningful decision for patients and their families, and adds that the new site should provide a comprehensive and educational resource to help patients during this difficult decision-making process.
In cooperation with Rosemont Media, a medical website design firm, Dr. Parva's new site incorporates detailed descriptions of all procedures offered, as well as a before-and-after photo gallery, Dr. Parva's biography, and social media buttons to encourage the formation of an online community centered on the care of his patients with the collaboration of his dedicated team. Ultimately, Dr. Parva says he is dedicated to listening to each patient in order to understand their goals and provide a true reflection of their best self.
About Behzad Parva, MD
Dr. Behzad Parva earned his medical degree from Temple University School of Medicine where he was selected into the medical honor society Alpha Omega Alpha. He completed his general surgery residency at Temple University Hospital, and his plastic surgery residency at Indiana University Medical Center. Dr. Parva also completed a plastic surgery research fellowship at the University of Pittsburgh. He is a member of the American Society for Aesthetic Plastic Surgery, the American Society of Plastic Surgeons, and the Medical Society of Virginia.
Parva Plastic Surgery is located at 224-D Cornwall St. NW Suite 300 in Leesburg, VA 20176 and can be reached at (703) 777-7477, or found online at parvaplasticsurgery.com or the Parva Plastic Surgery Facebook page.
###