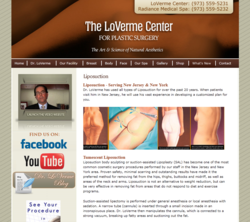 Verona, NJ (PRWEB) June 21, 2011
Dr. Paul LoVerme is a 2nd generation plastic surgeon in New Jersey. For the 10th consecutive year, the operating room at The LoVerme Center for Plastic Surgery has been certified by the American Association for Accreditation of Ambulatory Surgery Facilities. The AAAASF is a non-profit organization that monitors same-day operating rooms in offices, hospitals, and outpatient surgery centers to ensure the highest standards of patient safety are maintained. Dr. LoVerme says the ability to offer patients in-office surgical facilities carries a range of benefits his patients appreciate, with increased safety, privacy, and convenience the most commonly cited.
Dr. LoVerme says studies have shown in-office operating rooms expose patients to fewer germs and bacteria when compared to hospital rooms. He adds that regardless of whether he is performing breast augmentation, liposuction or other surgical procedures, this fact alone is important because patient safety is the top priority at The LoVerme Center.
The LoVerme Center staff remains committed to the preservation of the guidelines set forth by the AAAASF because their patients appreciate the increased safety provided by the facility, as well as the added privacy and convenience provided by the in-office operating room. As Dr. LoVerme continues to stress the importance of patient care and overall effectiveness while performing procedures ranging from breast augmentation to liposuction in New Jersey, he says the certification plays an integral role in being able to provide those services for his patients.
About Dr. LoVerme
Paul LoVerme, MD earned his medical degree from UMDNJ – New Jersey Medical School. He then completed his general residency at UMDNJ, and his plastic surgery residency at the Medical College of Ohio. Dr. LoVerme is dual certified in Surgery and Plastic Surgery, with an added specialization in Hand Surgery. He is a member of the American Society for Aesthetic Plastic Surgery and the American Society of Plastic Surgeons, and is acting Governor from New Jersey to the American College of Surgeons. While Dr. LoVerme focuses mainly on aesthetic plastic surgery, he has traveled extensively as a Trip Chief with Healing the Children to provide reconstructive procedures to over 500 children in impoverished areas.
The LoVerme Center is located at 825 Bloomfield Ave. in Fells Plaza, Ste. 205 in Verona, NJ 07044, and can be reached at (973) 559-5231. The Radiance Medical Spa at The LoVerme Center can be contacted at (973) 559-5232. Both can found online at lovermecenter.com or The LoVerme Center for Plastic Surgery – New Jersey Facebook page.
###