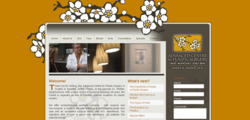 Orlando, FL (Vocus/PRWEB) March 09, 2011
At his Orlando plastic surgery practice, James Matas, MD is improving the patient-doctor relationship with an innovative Patient Education Interface that allows patients to explore detailed and easy-to-navigate descriptions of specific procedures before their initial consultation with Dr. Matas. This latest technological advancement exemplifies his commitment to creating positive patient experiences.
Created from the desire to further improve patient communication and education as well as the patient-doctor relationship, Dr. Matas says the innovative TouchMD system not only enhances his ability to support patients inside his office, but away from the office as well allowing patients to review their educational information at home through a web portal. He adds that providing this type of in-depth access allows him to focus even more on the specific diagnosis and solutions, and allows patients to relive the consultation and potentially share the information with friends and family.
Dr. Matas says he believes the TouchMD system not only improves the patient-doctor relationship, but also makes his entire practice more efficient, which leads to better educated patients and well-rounded cosmetic enhancement expectations. Dr. Matas notes that in addition to more efficient office visits, creating positive patient experiences remains his top priority at The Advanced Centre for Plastic Surgery in Orlando, FL, whether his patients desire a dramatic transformation with breast augmentation or liposuction, or a more subtle touch with BOTOX Cosmetic or dermal fillers.
About Dr. Matas
James A. Matas, MD is certified by the American Board of Plastic and Reconstructive Surgery. He earned his medical degree from the University of Miami Medical School, and then completed his general surgery residency at the University of Cincinnati Medical Center, followed by a plastic surgery residency at Indiana University Medical Center. Dr. Matas is a member of the American Society of Plastic Surgeons, the American Society for Aesthetic Plastic Surgery, and the Florida Society of Plastic Surgeons.
The Advanced Centre for Plastic Surgery is located at 7300 Sandlake Commons Blvd., Medplex Building A, Suite 100 in Orlando, FL 32819, and can be reached at (407) 792-0429, or found online at http://www.yournewlook.com.
###