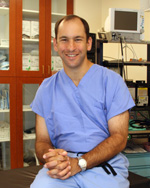 Many of my patients don't always realize how deep into the skin the damage can penetrate
Atlanta, GA (PRWEB) August 02, 2012
Summertime means lots of fun in the sun, but Dr. Mark Deutsch, MD, FACS, Atlanta plastic surgeon at Perimeter Plastic Surgery, has seen many patients this season that spent too much time in the sun. In response, he is now recommending NIA24™ products for patients that have endured harmful UV ray exposure, which can cause extensive damage even after sunburns have visibly healed. NIA24™ is a professional skincare line devoted to preventing, repairing and fighting sun damage utilizing a unique formula. Dr. Deutsch carries these skincare products in his office year-round.
Formulated by Niadyne, Inc. NIA24™ is niacin-powered skin therapy based on 25 years of biomedical research. Featuring Pro-Niacin™, a patented molecule that deeply penetrates the skin to deliver niacin (also known as vitamin B3) directly to skin cells, NIA24™ promotes healing from within. NIA24™ works in four ways. It stimulates the repair of DNA, which can be damaged or changed by sun and environmental exposure, to promote a natural healing process; it enhances energy metabolism and skin cell turnover; it promotes the release of the natural repair hormone leptin to improve immune response and reduce hyperpigmentation; and it works to reduce hyperpigmentation through melansome transfer inhibition.
In a physician-directed trial study of 140 patients, 90 percent experienced reduced hyperpigmentation, 82 percent noticed improved skin texture, and 68 percent noticed reduced fine lines and wrinkles. The National Cancer Institute also recently chose the Pro-Niacin™ molecule for development as a potential skin cancer prevention agent.
"I see a lot of skin damage, especially during the summer months. Many of my patients don't always realize how deep into the skin the damage can penetrate and assume that they're healed after sunburns go away," says Dr. Deutsch. "Unfortunately, this isn't always the case which is why I carry the NIA24 products in my office. They're proven to help reverse and prevent the damaging effects of the sun's rays and other environmental pollutants."
Dr. Deutsch is board certified by the American Board of Plastic Surgery in general, plastic and reconstructive surgery. Dr. Deutsch is one of the top plastic surgeons in Atlanta and has two office locations in the Atlanta area. For more discussion of the breast reconstruction procedures that Dr. Deutsch offers, visit http://www.perimeterplasticsurgery.com or call (770) 461-4824 to schedule a consultation.