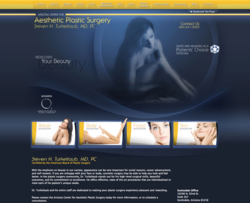 Scottsdale, AZ (PRWEB) October 05, 2011
After a 2% decrease in overall procedures from 2009-2010, the latest study from the American Society for Aesthetic Plastic Surgery (ASAPS) shows the number of procedures performed rose almost 9% in 2010, to total more than 9.3 million aesthetic enhancement procedures. Breast augmentation and liposuction were the two most popular procedures in 2010, a fact Dr. Steven Turkeltaub, a board certified plastic surgeon in Arizona, partially attributes to the growing trend of mommy makeovers: the process of combining surgical cosmetic enhancement procedures, as well as nonsurgical procedures, to address the common aesthetic concerns of mothers following pregnancy and childbirth.
At his Scottsdale plastic surgery practice, Dr. Turkeltaub states that he has seen an increase not only in individual surgical procedures such as breast augmentation and liposuction as well as in non-surgical procedures like BOTOX® treatments and dermal fillers (Juvederm®, Restylane® and Radiesse®), but also in the number of female patients who desire multiple surgical procedures in order to create a more comprehensive full-body makeover. Much of this is driven by women wanting to regain their pre-pregnancy appearance to feel and appear more attractive and youthful.
The combination of procedures—such as a breast augmentation with a tummy tuck and liposuction—provides financial and recovery time benefits as well. The total cost of the mommy makeover procedure can be substantially less if the individual procedures are performed at the same time. Furthermore, one operative period results in less total time off work, less outside child care, and requires only one recuperation period rather than two or more.
Dr. Turkeltaub states that it is critically important for a patient contemplating cosmetic surgery, whether it is a single procedure like breast augmentation or liposuction, or a combination of procedures similar to the mommy makeover, to seek care from a board certified plastic surgeon. He adds that the complexity of these procedures, even when performed separately, requires the experience gained and skills developed and refined during intensive, rigorous plastic surgery training prior to the certification process.
About Steven H. Turkeltaub, MD, PC
Dr. Steven Turkeltaub earned his medical degree during a six year medical program at Boston University and the School of Medicine. He then completed a general surgery residency at the University of Miami/Jackson National Memorial Hospital, which was followed by a plastic surgery residency at the University of Massachusetts Medical Center. Dr. Turkeltaub is a member of the American Society of Plastic Surgeons, the Arizona Society of Plastic and Reconstructive Surgeons, and the Arizona Medical Association.
Dr. Turkeltaub has two plastic surgery office locations: the Scottsdale office is located at 10290 N. 92nd St. Suite 207, Scottsdale, AZ 85258; the Glendale office is located at 18275 N. 59th Ave., Bldg. E Suite 126, Glendale, AZ 85308. Consultations for both offices can be made by telephone at (480) 451-3000 or online at turkeltaub.com, arizonabreast.com, and facebook.com/drturkeltaub.
###