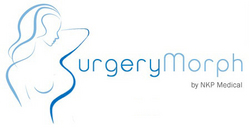 Patients can use this from home, making it extremely beneficial to those in the early stages of deciding about plastic surgery. Plus, it gives patients the opportunity to be in direct communication with a surgeon at the moment they make those decisions.
Culver City, CA (PRWEB) December 1, 2010
NKP Medical Marketing is proud to present SurgeryMorph, a new, innovative tool for prospective plastic surgery patients to use in visualizing potential results and opening up a dialogue with Plastic Surgeons.
"Many women have entertained the idea of Plastic Surgery for both cosmetic and reconstructive reasons," David Phillips, CEO of NKP Medical Marketing says, "but being able to really see the kinds of results they could potentially achieve in a manner that is both fun and easy -- it really takes a lot of the guesswork out the process. It is also quite beneficial for those patients at the early stages of deciding about plastic surgery, mainly because they can use this tool from home. Plus, SurgeryMorph encourages patients to contact a qualified Plastic Surgeon to learn what is possible for them."
Phillips also notes that SurgeryMorph, an online photo editor and plastic surgery simulator, gives users the opportunity to share their photos with friends and with their surgeon. "Another thing we've done is enable built-in sharing features so that a user can share their photo results on Facebook or by email. Also, with a click of a button these prospective patients can then send the before and after simulation pictures to their favorite Plastic Surgeon and say, 'This is the result I am hoping to achieve - is it realistic for me?' These interactions really help get the patient and the Plastic Surgeon on the same page."
SurgeryMorph allows its users to upload a photo of themselves and then edit it online using the different procedural tools available. There are options for Breast Augmentation, Breast Lift and Reduction, Tummy Tuck, Liposuction, Buttock Lift, Labiaplasty, Facelift, Blepharoplasty, Rhinoplasty, Varicose Vein Reduction, Wrinkle Reduction and Laser Hair Removal. The tools have easy-to-use options and there are helpful, informative narrated videos to help you along the way.
Phillips adds, "This tool is a fun way to simulate potential procedural results, but it should be noted that it in no way can guarantee the projected results. It is important to speak to a Board Certified Plastic Surgeon to get a fuller, more comprehensive and accurate projection of realistically achievable results."
About SurgeryMorph:
SurgeryMorph offers prospective plastic surgery patients an opportunity to upload photos of themselves that they can then edit online via various procedural tools in order to better visualize potential results. Patients are then able to use SurgereyMorph's built-in sharing feature to send the results of their virtual procedure to Plastic Surgeons, friends or family as a way of opening the door to discussing their realistic plastic surgery options. To learn more about SurgeryMorph, contact David Phillips at (866) 539-2201 or visit surgerymorph.com.
NKP Medical Marketing, Inc., specializes in Medical Website Development. Information regarding NKP Medical Marketing's services is available from David Phillips or by visiting nkpmedical.com.
###