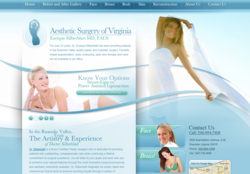 Roanoke, VA (PRWEB) May 24, 2011
As a board-certified plastic surgeon in Virginia, Dr. Enrique Silberblatt is announcing the launch of an innovative new website designed to enhance his patients' online experience with his practice. He says he hopes the new site will not only provide patients with a valuable and informative resource for all their cosmetic plastic surgery questions, but also help create a positive experience as both current and potential patients interact with each other in the online community built around his practice.
The new Aesthetic Surgery of Virginia website includes detailed descriptions of all procedures Dr. Silberblatt offers, ranging from surgical procedures such as breast lift and [liposuction], to nonsurgical procedures such as BOTOX Cosmetic® or dermal fillers. In addition to providing patients with an educational resource, he says he hopes to foster the growth of a comprehensive social media community, which he believes can strengthen the overall patient-doctor relationship.
In collaboration with medical website design firm Rosemont Media, Dr. Silberblatt says he and his staff have incorporated a doctor biography, a before-and-after gallery, information on how to choose a properly certified surgeon, and social media buttons. He adds that the joint venture resulted in an aesthetically pleasing design framework that offers his patients a thorough and comfortable introduction to his Aesthetic Surgery of Virginia practice.
About Dr. Silberblatt
Enrique Silberlatt, MD, FACS earned his medical degree from New York Medical College. He then completed his general surgery residency at the University of Massachusetts, and his plastic surgery residency at the University of Pittsburgh. Dr. Silberblatt also completed a fellowship in Pediatric Plastic and Orthognathic Surgery, as well as a fellowship in Hand and Microsurgery. He is a fellow of the American College of Surgeons, and is certified by the American Board of Surgery, the American Board of Plastic Surgery, and the National Board of Examiners.
Aesthetic Surgery of Virginia is located at 3505 Brambleton Ave. SW in Roanoke, VA 24018, and can be reached at (540) 994-7408, or found online at http://www.silberblatt.com or the Aesthetic Surgery of Virginia Facebook page.
###