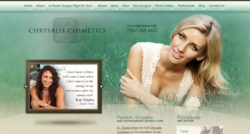 Sacramento, CA (Vocus/PRWEB) February 01, 2011
Dr. Charles Perry, a board-certified plastic surgeon in Sacramento, CA, is announcing the launch of an innovative new website designed to enhance current and prospective patients' online experience with his Chrysalis Cosmetics practice. Dr. Perry says that by providing an inside look into his practice, he hopes to further impress upon online visitors his passion for aesthetic enhancement, his empathy for the individual lives of each patient, and his dedication to patient safety. Whether his patients are considering nonsurgical enhancement such as BOTOX ® cosmetic and dermal fillers, or surgical procedures such as liposuction or tummy tuck surgery, Dr. Perry says he and his Chrysalis Cosmetic team strive for natural results that fit the expectations and goals of each patient.
Dr. Perry has incorporated an array of the most technologically advanced medical website design features in collaboration with the designers and writers at Rosemont Media ® in San Diego. By providing detailed descriptions of each procedure offered, as well as patient testimonials and a doctor biography in an aesthetically-pleasing design framework, Dr. Perry says he hopes to create a comprehensive online experience while conveying his extensive skills and dedication to the art of cosmetic surgery.
In addition to the in-depth information provided within the website, Dr. Perry also provides a number of cutting-edge features to further enhance the online viewing experience. One such innovation is the ability to participate in a virtual consultation, which Dr. Perry says is another way his practice strives to fit the lives of his patients, instead of the other way around. The new website also includes high-quality video testimonials, an up-to-date blog, and a "Plastic Surgery Through the Ages" section to make his patients more aware of all options available to them. Dr. Perry adds that creating this interactive online environment was extremely important to him and his team as they work to create a supportive, positive experience for each patient at Chrysalis Cosmetics.
About Dr. Perry
Charles Perry, MD earned his medical degree from the University of Washington. He then completed his general surgery residency at the University of Arizona, and his plastic surgery residency at the University of Massachusetts. Dr. Perry is certified by the American Board of Plastic Surgery, and is a Diplomat of the American Board of Surgery. He is also a member of the American Society of Plastic Surgery and the California Medical Association, as well as a Fellow of the American College of Surgeons.
Chrysalis Cosmetics is located at 3800 J St., Ste 210 in Sacramento, CA 95816, and can be reached at (916) 248-4447. Dr. Perry can also be found online at http://www.sacramentoplastics.com/ or the Chrysalis Cosmetics Facebook page.
# # #