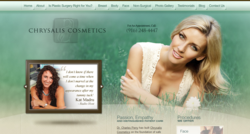 Sacramento, CA (Vocus/PRWEB) March 29, 2011
At his Sacramento plastic surgery practice, Chrysalis Cosmetics, Charles Perry, MD is teaming up with his current patients and the Musculoskeletal Transplant Foundation (MTF) to provide life-changing skin and tissue donations through the Living Skin Donation program. MTF is the largest tissue bank in the nation and is dedicated to connecting donors with surgeons such as Dr. Perry to provide living skin to a varied spectrum of patients in need, ranging from breast cancer survivors to burn and trauma victims. "We at Chrysalis Cosmetics feel it is very important to be involved in this donation process for both parties involved."
Following an in-depth screening process to ensure each patient is well suited to donate tissue, Dr. Perry says he and his specially-trained team harvest and prepare the skin, then send it to the MTF collection facility. In the past, he says the practice donated skin to other tissue banks or researchers for laser studies, but settled on MTF as the primary receiver of their patients' tissue donations because the feedback the organization provides patients is exceptional.
Chrysalis Cosmetics patients initially urged Dr. Perry to get involved with the Living Skin Donation program because they were upset the tissue was discarded following their tummy tuck or post-bariatric procedure. "The donation process is often very fulfilling for both parties. The person donating feels as though they have done something good with their unneeded skin, and often comments that it feels like the right thing to do as they begin their new life."
About MTF
Over 900,000 Americans receive tissue transplants each year to replace bone, tendons and ligaments lost to a number of causes, including cancer, severe trauma, and degenerative diseases. The Musculoskeletal Transplantation Foundation is the nation's largest tissue bank committed to providing quality tissue through excellence in education, research, recovery and care for all parties involved. As a non-profit organization, MTF is dedicated to connecting donors with surgeons and transplant recipients. Since its inception in 1987, MTF has distributed more than 3 million grafts for transplantation from more than 100,000 donors.
About Dr. Perry
Charles Perry, MD earned his medical degree from the University of Washington. He then completed his general surgery residency at the University of Arizona, and his plastic surgery residency at the University of Massachusetts. Dr. Perry is a fellow of the American College of Surgeons, and a member of the American Society of Plastic Surgeons and the California Medical Association. He has participated in cleft lip and palate reconstruction missions in Ecuador, a medical outreach program in the X'axlip Indian Reservation, and continues to volunteer with the Plastic Surgery Educational Foundation.
Chrysalis Cosmetics is located at 3800 J St., Ste. 210 in Sacramento, CA 95816, and can be reached at (916) 248-4447, or found online at http://www.sacramentoplastics.com, or the Chrysalis Cosmetics Facebook page.
###