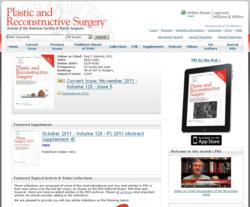 Dallas, Texas (PRWEB) April 23, 2013
Medical journal Plastic and Reconstructive Surgery published a paper in its March 2013 issue releasing the results of a 20-year retrospective study of surgical techniques, longevity and outcomes related to secondary rhytidectomy, better known as secondary facelift. The paper, whose senior author is Dallas plastic surgeon Dr. Rod J. Rohrich of UT Southwestern Medical Center, concludes that secondary facelifts last nearly as long as primary facelifts, results are just as favorable, and positive outcomes are more likely when a set of surgical techniques developed by Dr. Rohrich is followed. According to the authors, the surgical techniques, knows as The Five R's of Secondary Rhytidectomy, "will enable the plastic surgeon to safely restore youth and correct stigmata of primary facelift."
In the paper, entitled "A 20-Year Experience with Secondary Rhytidectomy: A Review of Technique, Longevity, and Outcomes," Dr. Rohrich and his colleagues attribute an increase in secondary and tertiary facelifts to a growing middle-aged population and an overall increase in facial rejuvenation at an earlier age.
According to the paper, the need for secondary facelifts has been affected by advances in surgical techniques over the last few decades. "A myriad of techniques have evolved over the past 30 to 40 years," the authors explain, "and each technique may lead to secondary problems." When performed correctly, secondary rhytidectomy is not any more likely to lead to problems than primary facelifts and secondary facelifts can correct shortcomings of facelifts performed using older methods.
The study, which is based on a review of all facelifts performed by Dr. Rohrich from 1990 through 2010, was designed to determine the kinds of conditions faced by secondary facelift patients, as well as what was done to correct the problems, and evaluate the outcomes and longevity of both primary and secondary facelift procedures. Finally, the doctors hoped the study would reveal whether a change in technique would lead to a change in the need for secondary procedures.
During the 20-year span of the study, Dr. Rohrich performed 811 facelifts, of which 60 were secondary procedures. Ten of those patients received both secondary and tertiary procedures performed by Dr. Rohrich. Average age at the time of primary procedures was 51.4 years, with an age range from 27.5 to 63.0). Average age at the time of secondary procedures was 60.5, with ages ranging from 46.6 to 77.3. A study of the amount of time patients waited between procedures led to the conclusion that there is essentially no difference in the longevity of primary and secondary facelifts.
According to Dr. Rohrich, secondary facelifts are less a "lift" than they are a volumizing procedure, something for which he is well-known. He helped to pioneer the "lift and fill" facelift that uses fat grafting to build up sunken areas of the face to restore volume. In the past, plastic surgeons performed facelifts by pulling the skin back. This old-fashioned facelift stretches the skin and produces a "windswept" look that often appears awkward and unnatural. Restoring facial volume solves these issues, resulting in a more youthful and natural appearance.
According to Dr. Rohrich, The Five R's of Rhytidectomy include resecting the scar, releasing abnormal vectors, refilling with fat grafting, reshaping with SMAS-stacking plication or SMASectomy, and redraping the skin. "Use of these surgical procedures will correct stigmata of prior facelifts and help patients return to a more natural and youthful appearance," he said.
About Rod J. Rohrich, M.D., F.A.C.S.
Dr. Rod J. Rohrich holds the Betty and Warren Woodward Chair in Plastic and Reconstructive Surgery at UT Southwestern Medical Center in Dallas, Texas. He also holds the UT Southwestern Medical Center Crystal Charity Ball Distinguished Chair in Plastic Surgery. He is a graduate of the Baylor College of Medicine with high honors, with residencies at the University of Michigan Medical Center and fellowships at the Massachusetts General Hospital/Harvard (hand/microsurgery) and Oxford University (pediatric plastic surgery). He has served as president of the American Society of Plastic Surgeons. He repeatedly has been selected by his peers as one of America's best doctors, and twice has received one of his profession's highest honors, the Plastic Surgery Educational Foundation Distinguished Service Award, which recognizes his contributions to education in plastic surgery. Dr. Rohrich participates in and has led numerous associations and councils for the advancement of plastic and reconstructive surgery. He is a native of North Dakota. He is married to Dr. Diane Gibby, also a plastic surgeon. They live in Dallas with their two children.