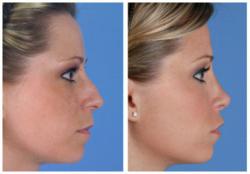 I am honored to receive this recognition and eager to share what I can to help plastic surgeons prevent and manage secondary rhinoplasty
Dallas, Texas (PRWEB) November 10, 2011
Dr. Rod Rohrich, chair of the department of plastic and reconstructive surgery at UT Southwestern Medical Center, will be the New York University Langone Medical Center's "V.J. Kazanjian Visiting Professorship in Plastic Surgery." The professorship was granted through the university's Institute of Reconstructive Surgery. One of the major lectures will be entitled "Advances in Secondary Rhinoplasty."
"I am honored to receive this recognition and eager to share what I can to help plastic surgeons prevent and manage secondary rhinoplasty," Dr. Rohrich said. "Rhinoplasty is a surgery of millimeters, and the margin for error is very small. It is both an art and a science, so it's very important that the surgeon has expertise, experience and overall ability to judge what can and can't be done."
According to Dr. Rohrich, the complicated nature of rhinoplasty results in an average revision rate of 15 to 20 percent, a number he would like to see improved. Dr. Rohrich, who has a personal revision rate of three percent, receives many referrals annually for corrective rhinoplasty.
"It's so much better to do it right the first time," Dr. Rohrich said, "because you can almost never get as good a result the second time around."
Dr. Rohrich will share pioneering work in secondary rhinoplasty at UT Southwestern Medical Center, which demonstrates that the open approach to rhinoplasty is not only better for primary surgeries, but also for the correction of unsuccessful rhinoplasty. "The open approach allows us to visually see the deformity, rather than guessing what is under the skin," Dr. Rohrich said. "You can just look at what is wrong and correct the deformity."
Dr. Rohrich said five essential aspects of rhinoplasty can help avoid the need for a secondary rhinoplasty, as well as aid in performing secondary operations when they are needed.
1. The plastic surgeon and the patient both must take the time to do a thorough and precise pre-operative analysis of the nose and the desired outcome.
2. The surgeon must have the knowledge and experience to complete proper pre-operative preparation.
3. The surgeon must be aware of and capable of requirements for concise execution of the operation.
4. The surgeon must strive to do the best possible job during the operation.
5. The surgeon must have deep experience and expertise with secondary rhinoplasty and the ability and willingness to self-analyze.
Some other major topics Dr. Rohrich will cover during the visiting professorship include:

Nasal/facial analysis
Use of tip sutures only, and no visible grafts when possible
Use of grafts from the patient's own body
New types of invisible grafts he has developed
The role of component dorsal exposure
The use of HA fillers as a temporizer
Shorter times within which secondary and tertiary rhinoplasty can be performed
"A patient recently told me she wishes she had done as much research for her primary rhinoplasty as she did for her secondary surgery," Dr. Rohrich said, "and then maybe she wouldn't have needed the secondary nose job. That's exactly what we are after with these new advances and ongoing education."
About Rod J. Rohrich, M.D., F.A.C.S.
Dr. Rod J. Rohrich holds the Betty and Warren Woodward Chair in Plastic and Reconstructive Surgery at UT Southwestern Medical Center in Dallas, Texas. He also holds the UT Southwestern Medical Center Crystal Charity Ball Distinguished Chair in Plastic Surgery. He is a graduate of the Baylor College of Medicine with high honors, with residencies at the University of Michigan Medical Center and fellowships at the Massachusetts General Hospital/Harvard (hand/microsurgery) and Oxford University (pediatric plastic surgery). He has served as president of the American Society of Plastic Surgeons. He repeatedly has been selected by his peers as one of America's best doctors, and twice has received one of his profession's highest honors, the Plastic Surgery Educational Foundation Distinguished Service Award, which recognizes his contributions to education in his field. Dr. Rohrich participates in and has led numerous associations and councils for the advancement of plastic and reconstructive surgery. He is a native of North Dakota. He is married to Dr. Diane Gibby, also a plastic surgeon. They live in Texas with their two children.
###