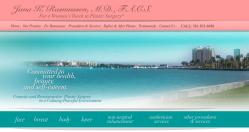 West Palm Beach, FL (Vocus/PRWEB) November 29, 2010
At her West Palm Beach plastic surgery practice, Dr. Jana K. Rasmussen is announcing the launch of a new website to provide an in-depth network of information, which she says will enhance her ability to convey her expertise as a plastic surgeon and help patients understand how they can attain their aesthetic enhancement goals. Dr. Rasmussen adds that the comprehensive website can lead to better educated patients who will have a clearer set of expectations and a greater knowledge of procedures that can help them. Whether her patients are considering cosmetic procedures such as breast augmentation in West Palm Beach, are in need of reconstructive procedures, or weighing the options associated with invasive and non-invasive procedures, Dr. Rasmussen says her philosophy is firmly rooted in her trademarked office motto, For a Woman's Touch in Plastic Surgery ®.
Dr. Rasmussen says she wanted to create a website to reflect this office motto and her commitment to providing exceptional, individualized care to improve the health of her patients. In collaboration with Rosemont Media ®, a medical website design firm in San Diego, she has incorporated detailed descriptions of each procedure she offers, as well as patient testimonials, before-and-after galleries, and a doctor biography. Dr. Rasmussen says all of the information will help educate her current and potential patients as they consider and develop their aesthetic enhancement expectations and goals.
While Dr. Rasmussen says she hopes the website will provide patients with some insight into her expertise and experience performing procedures such as BOTOX® Cosmetic or liposuction in West Palm Beach, she also stresses that the website is merely the introduction to her practice, and is in no way capable of replacing an in-office consultation. In the end, Dr. Rasmussen says she hopes the website enhances her patients' online experience with her plastic surgery practice, and supports her commitment to their health, beauty, and well-being.
About Dr. Rasmussen
Dr. Jana Rasmussen received both her bachelor and medical degree from the University of Kansas. She completed her general surgery residency at Waterbury Hospital, where she was the first woman to complete the five-year program, and then completed her plastic surgery training at Yale University. Dr. Rasmussen is certified by the America Board of Plastic Surgery, and is a Fellow of the American College of Surgeons.
Dr. Rasmussen's plastic surgery practice is located at 1717 North Flagler Dr., Ste. 1, in West Palm Beach, FL 33407, and can be reached at (561) 833-6688 or http://www.janakrasmussenmdfacs.com.
# # #