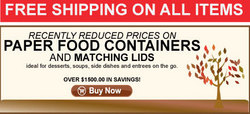 City of Industry, CA (PRWEB) September 24, 2009
CupDepot.com, the online distributor of Karat® and Karat® Earth paper and plastic cups, is offering online customers an irresistible deal on all purchases of paper food containers and matching lids. These items are ideal for desserts, soups, side dishes, and entrees on the go. As always, all purchases come with a free shipping guarantee when made from any of the 48 Continental U.S. states.
CupDepot.com is also slashing costs on paper cup sleeves, paper hot cups, plastic dessert spoons, and Karat® Earth plastic cups. Paper cup jackets are now available for only $40.00. Meanwhile, a case of 8oz Karat® paper hot cups now retails for $68.00. For purchases of at least five cases, CupDepot.com will discount another $5.00. Everyone's favorite dessert utensils are also on sale. Colored teaspoons are currently available for only $35.00. Also, 160z Karat® Earth eco-friendly clear plastic cups are available for only $94.75 per case.
Karat® and Karat® Earth plastic cups are manufactured with PP or PET material so consumers can be rest assured that each plastic cup is highly translucent. Karat's® PEP plastic cups are trusted products in the food service industry, known for their topnotch quality and durability. CupDepot.com also offers high quality and affordable custom paper and plastic cups available in four-color custom plastic cup printing technology.
With CupDepot.com, consumers can enjoy great value for money with industry-standard plastic cups, cup jackets, food containers, lids, and more. Volume purchases also entitle consumers to even bigger discounts. To receive CupDepot.com's promotional coupons and newsletters, sign up and join the mailing list.
About CupDepot.com
Cupdepot.com is the manufacturer of Karat® and Karat® Earth paper and plastic products based in Industry, Ca. CupDepot.com is a subsidiary of Lollicup® USA, Inc. offering affordable premium plastic and paper cups, utensils, containers, straws, coffee cup jackets, etc. Headquartered in the City of Industry, Lollicup® is also known for its retailing bubble tea drink stores under the Lollicup® Coffee and Tea name. They are also well known for their Lollicup® Tea Zone brands line of coffee syrups and more. Press release produced by Cybertegic.com - an Internet marketing services agency that specializes in search engine optimized press release marketing (SEO Marketing).
###