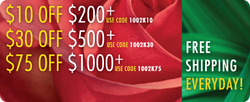 City of Industry, CA (Vocus) February 10, 2010
Fall in love with CupDepot.com's February savings! Online plastic cup retailer CupDepot.com is slashing prices off of purchases on paper and plastic cups, plastic utensils, paper cup jackets, and much more. Discounts start at $10 off $200 orders with coupon code 1002K10. For orders worth $500 or more, use coupon code 1002K30 to take advantage of a $30 discount. Finally, orders worth $1,000 and up are entitled to a $75 discount with coupon code 1002K75. To sweeten the deal, CupDepot.com is offering free shipping all day, every day on all orders within the continental U.S.
This month, CupDepot.com is also bringing down the prices of other popular food and beverage handling items in its inventory. 8 oz. and 20 oz. eco-friendly Karat® paper cups are now available for a special price of $55 per case. Red and pink heavyweight teaspoons are available with a heavyweight discount of 15% for those buying more than four cases. Karat® Clear Eco-friendly PLA straws (2,500 pieces per case) are 50% off when purchased with any eco-friendly product. Cup jackets are available for only $40 per case, while larger orders of three or more cases are only $36/case. Multi-case discounts are also offered to customers who go online and buy cup carriers. Save up to 18% on 2-cup carriers and 15% on 4-cup carriers for these handy and reliable carriers, which are a perfect fit for plastic and paper cups of all sizes.
CupDepot.com also offers custom paper and plastic cups at a great price making CupDepot.com the best choice for personalized restaurant supplies. For more promotions, deals, and news, subscribe to CupDepot.com's bimonthly newsletter. Or, visit CupDepot.com's official blog to remain updated on the best deals, news, and more.
About CupDepot.com
Cupdepot.com is the manufacturer of Karat® and Karat® Earth paper and plastic products based in Industry, Ca. CupDepot.com is a subsidiary of Lollicup® USA, Inc. offering affordable premium plastic and paper cups, utensils, containers, straws, coffee cup jackets, etc. Headquartered in the City of Industry, Lollicup® is also known for its retailing bubble tea drink stores under the Lollicup® Coffee and Tea name. They are also well known for their Lollicup® Tea Zone brands line of coffee syrups and more. Press release produced by Cybertegic.com – an Internet marketing services agency that specializes in search engine optimized press release marketing (SEO Marketing).
###