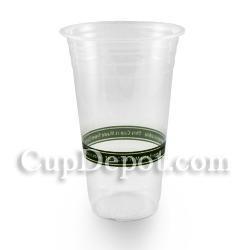 City of Industry, CA (Vocus) May 1, 2010
Online plastic cups manufacturer, CupDepot.com, is making a mark this May by slashing prices off of some of its eco-friendly paper cups and plastic cups, as well as adding a new item to its line of food and beverage handling supplies. This month, customers can find 12oz Karat® Earth Eco-Friendly PLA Clear Cup, 3oz Karat® Clear Plastic PET Portion Cups, and 4oz Karat® White Paper Hot Cups at steeply discounted prices. In addition, CupDepot.com introduces the new 10oz Karat® White Paper Hot Cups, now for sale at only $68.00 per case.
Karat® Earth is a compostable line of eco-friendly products, paper and plastic ware, developed from the idea that living green can help people save green. This May, Karat® Earth Eco-Friendly PLA Clear Cup (Stock Print) is discounted from $97.00 per case to only $84.00, which is a pocket-friendly savings of $13.00. The 3oz Karat® Clear Plastic PET Portion Cups are also joining the price slash bandwagon. From its previous selling price of $92.95 for each case, it now retails for $73.00. Finally, CupDepot.com is reducing the price of its 4oz Karat® White Paper Hot Cups. From its original selling price of $65.75 per case, the mini paper hot cups are now available for only $37.00 per case. Save $28.75 every time you purchase these Karat® Earth Eco-Friendly hot cups. CupDepot.com is also introducing 10oz White Paper Hot Cups to it already venerable line-up of paper and plastic cups and utensils. For only $68.00 a case, customers can purchase 1000 pcs/case. Additionally, CupDepot.com ships all purchases free of charge in the Continental US.
Whether generic or customized, CupDepot.com has a wide array of plastic cups, paper cups, and other food and beverage handling supplies for both home and business use. CupDepot.com offers competitive prices on custom-made plastic cups, which is why it is the preferred supplier of personalized plastic cups. Use CupDepot.com's custom printing services for easy and effective ways to advertise your business. With its quick turn-around time of eight to ten weeks, CupDepot.com has the best fit for your custom printing needs. CupDepot.com regularly makes irresistible deals and offers on paper and plastic cup purchases.
To remain updated on the latest news, deals and promotions on plastic cup purchases, visit the official CupDepot.com blog to know more about its line of eco-friendly products.
About CupDepot.com
Cupdepot.com is the manufacturer of Karat® and Karat® Earth paper and plastic products based in Industry, Ca. CupDepot.com is a subsidiary of Lollicup® USA, Inc. offering affordable premium plastic and paper cups, utensils, containers, straws, coffee cup jackets, etc. Headquartered in the City of Industry, Lollicup® is also known for its retailing bubble tea drink stores under the Lollicup® Coffee and Tea name. They are also well known for their Lollicup® Tea Zone brands line of coffee syrups and more. Press release produced by Cybertegic.com – an Internet marketing services agency that specializes in search engine optimized press release marketing (SEO Marketing).
# # #